Patriots not having interest in Lamar Jackson is insane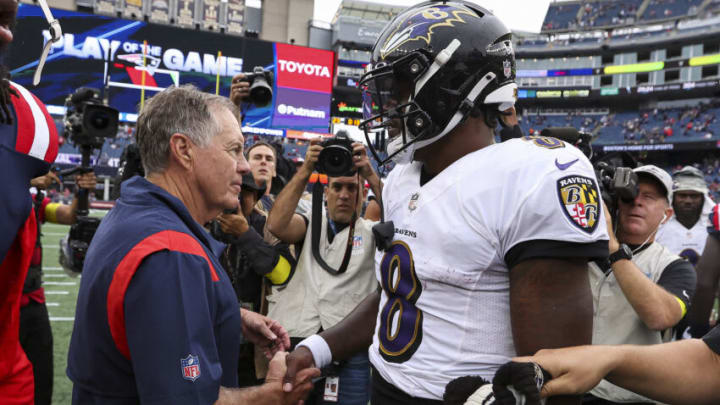 FOXBOROUGH, MASSACHUSETTS - SEPTEMBER 25: Head coach Bill Belichick of the New England Patriots shakes hands with quarterback Lamar Jackson #8 of the Baltimore Ravens after Baltimore's 37-26 win at Gillette Stadium on September 25, 2022 in Foxborough, Massachusetts. (Photo by Maddie Meyer/Getty Images) /
According to a league source, the Patriots are not expected to pursue QB Lamar Jackson, which is absolutely insane and malpractice.  
If this report is true, shame on whoever was the one who made this decision.
According to Mark Daniels, a league source indicates that the Patriots won't pursue the 2019 MVP.  If that is indeed true, someone in the Pats' organization needs fired, now.  Jackson was given the non-exclusive tag, which means he can agree to an offer sheet with a team.
If the Baltimore Ravens match the offer sheet, Jackson would remain a Raven, but if they don't want to, the new team would have to give up two first round picks to be able to land Jackson.
Two first round picks for this type of player is an absolute steal.  Not only do the Patriots have their first round picks in 2023 and beyond, but they have plenty of cap space to sign him to a deal.
He apparently wants a fully guaranteed contract, and I think that is the main haggling point between Jackson and a new deal.  Deshaun Watson got a fully guaranteed deal from the Cleveland Browns which has now established a perhaps scary precedent.
Jackson is a better QB at this very moment than Watson is, so to Jackson, I'm sure he finds it someone realistic to demand a fully guaranteed deal.
The Pats need to pursue Lamar Jackson at all costs.  They have a clear path to sign him if other reports are true that a chunk of other teams will not pursue the player.
If Aaron Rodgers is indeed headed to the New York Jets, that would give the Patriots even more of a reason to pursue Jackson, as the Bills have Josh Allen and Tua Tagovailoa had a stellar season for the Miami Dolphins in 2022.