Patriots: Giant new video board will have conspiracy theorists whining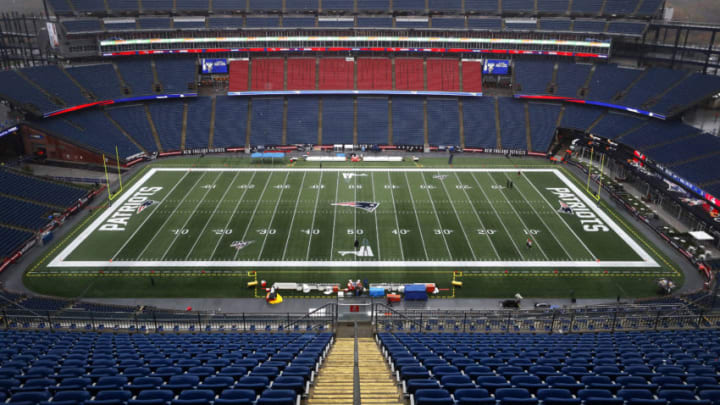 FOXBOROUGH, MASSACHUSETTS - OCTOBER 27: A General view of Gillette Stadium before the game between the New England Patriots and the Cleveland Browns at Gillette Stadium on October 27, 2019 in Foxborough, Massachusetts. (Photo by Omar Rawlings/Getty Images) /
Like numerous NFL teams, the New England Patriots were unable to host fans this past season amid the COVID-19 pandemic, though they still managed an impressive 5-3 record playing in the friendly confines of Gillette Stadium.
Maybe the confines themselves did help. Who can say?
However, that figures to change in 2021, as the Patriots sent a letter to season-ticket holders earlier this offseason expressing their optimism about welcoming fans back.
It would appear that having a full year off from fans in the stands prompted the Patriots to make some renovations to Gillette, as photos of a new video board in the south end zone have been making the rounds on social media this week.
This was simply a fantastic idea from all involved parties, but is anybody else getting the feeling the upscale video board will trigger conspiracy theorists?
Yes, we're referencing the original Spygate, and yes, some Pats haters are going to make a fuss over this.
Patriots haters are going to make a big fuss about Gillette Stadium's new giant video board, aren't they?
The fact that only the top of the renovated video screen is pictured here is bananas and has us wondering how big the entire thing is. However, we're just waiting for some cynic to accuse the franchise (and Bill Belichick) of wanting a glimpse of every inch of the stadium, for, you know, a corrupt side operation.
Following the Spygate investigation, it was determined by ESPN that the Patriots' recorded opponents' signals at least 40 times between 2000 and 2007. We've seen countless coaches, former Steelers great Bill Cowher being the most recent, defend the Pats for trying to gain a competitive edge, but even the most delusional of fans can realize this qualified as cheating.
However, to think the Patriots are still engaging in such mischievous acts just because they installed a new video board at Gillette is what's really delusional. We're all aware that New England has a shady reputation when it comes to taking the moral high ground, but let's remember they finished 7-9 last year … and the video board was functioning then, too.
And for anybody claiming New England's first losing season in 13 years would be enough motivation for Belichick to use the new video screen for his own twisted needs — like documenting opponent's signals — those folks are on an old-fashioned fishing expedition.
Who knows? Belichick is so brilliant that he might've had the screen installed just to psych out opposing teams. If so much of their energy is committed to ensuring their signals aren't recorded, odds are they won't be fully prepared for the game itself.
After all, if anybody loves a little reverse psychology, it's Belichick.