Patriots: ESPN rips Gillette Stadium in ranking of NFL venues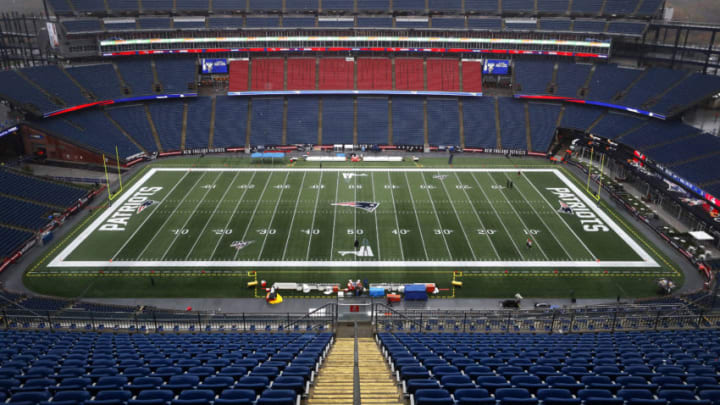 FOXBOROUGH, MASSACHUSETTS - OCTOBER 27: A General view of Gillette Stadium before the game between the New England Patriots and the Cleveland Browns at Gillette Stadium on October 27, 2019 in Foxborough, Massachusetts. (Photo by Omar Rawlings/Getty Images) /
ESPN disrespected the Patriots' famed Gillette Stadium. Classic!
We hate to dampen the mood leading up to a huge Week 2 matchup for the New England Patriots, but this piece of news, if you can even call it that, can only be viewed as extremely disrespectful to the franchise.
Despite opening as recently as 2002, Gillette Stadium is widely regarded as one of the most iconic venues in the NFL. Not only has the Super Bowl gone through it numerous times over the last two decades, but the energy from fans makes it an incredibly hostile environment. On top of that, the appeal behind Gillette's design and structure is apparent.
For some reason, however, ESPN doesn't seem to think much of the Patriots' home turf. In its latest ranking of NFL venues, the network penciled Gillette in at No. 23 of a possible 28 stadiums.
To think that there were only five teams — Carolina, Miami, Cincinnati, Jacksonville and Washington — that had lower-ranked stadiums than New England is almost laughable. Per ESPN, the reason Gillette ranked so low came down to its absurd pricing and lack of traveling accommodations.
""While the Patriots' success makes high prices understandable, the typical game-day cost is more than $200 more than the next-most expensive team," read the article. "That will likely come down now that Tom Brady is gone, but the pricing is ridiculous."Getting to and from Gillette is also a nightmare, as the limited options in and out of the stadium cause gridlock. The remote Foxborough location isn't great, but the Patriot Place complex somewhat makes up for that.""
While there's no denying that Gillette Stadium's pricing and traffic flow aren't fan-friendly, it's absolutely ridiculous that these two variables prompted ESPN to view it as the sixth-worst (!) home field in the entire NFL. For added context, the ranking took all of atmosphere, traditions, features, tailgating, history, location and pricing into account.
So, the Patriots come up short in two regards and that's deserving of falling to No. 23 in the ranking? Got it. You can't even argue that it lacks in the history department either, as the Minnesota Vikings' U.S. Bank Stadium, which opened in 2016, came in at No. 5.
It's duly noted that lists are created to incite debate, and we normally wouldn't give them the light of day, but there's a distinct difference between getting something totally wrong and blatantly disrespecting a franchise.
ESPN managed to do both with its shameful ranking of the Foxborough fortress, which has hosted 23 playoff fixtures, including six AFC Championship Games, since it opened.