Patriots: Bill Belichick has classic comments on Mohamed Sanu and Cam Newton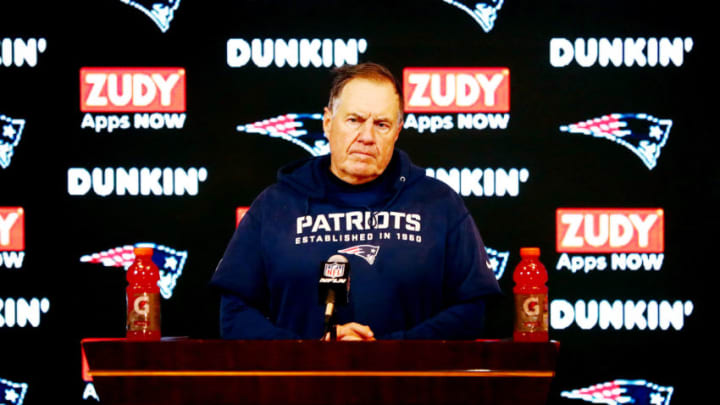 New England Patriots head coach Bill Belichick (Photo by Adam Glanzman/Getty Images) /
Do Patriots fan expect anything else from Bill Belichick?
There's a lot of stuff happening in Foxborough as of late. New England Patriots fans have constantly been hit with updates over the past week, with the biggest news easily being wide receiver Mohamed Sanu's release.
The former Atlanta Falcons WR was acquired for a second-round pick last year, but a poor showing in eight games after he suffered a sprained ankle put his roster spot in jeopardy even before training camp began. That apparently didn't change and Belichick cut him and his $6.5 million salary loose.
Sanu had since called out the team, stating that, despite being told "it wasn't going to work out," he thought it was a "money thing." In response, Belichick issued a classic Belichick response.
Yup, that checks out. The Patriots head coach will never expand on such an issue because he's not bringing any further attention to a topic the media can theoretically run with and make a story for days or weeks.
But what about this?! Reports dropped on Thursday suggesting Cam Newton was named the starting quarterback in a team meeting. You'd think that'd be a reason to celebrate, but Belichick actually indirectly refuted it.
On top of that, Newton was officially named a team captain. That's another piece of colossal news considering he joined the organization only two months ago. We know Belichick has heaped a ton of praise on Newton already this offseason when talking about his work ethic and football IQ, but this was kind of a downer response.
Care to comment beyond that?! Business as usual in New England. Nothing will be "official" and nobody will be guaranteed a job until five minutes before Week 1. Someone should ask him if Stephon Gilmore will be a starter on defense this year, just for fun.
So what'd we learn? Nothing! Bill Belichick is Bill Belichick and that's not changing at all even with Tom Brady gone.