Patriots add special teams coach; hope to improve kicking game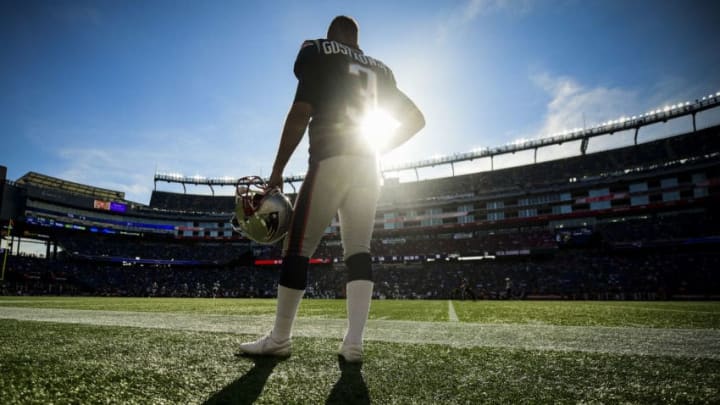 FOXBOROUGH, MA - SEPTEMBER 22: Stephen Gostkowski #3 of the New England Patriots looks on during the fourth quarter of a game against the New York Jets at Gillette Stadium on September 22, 2019 in Foxborough, Massachusetts. (Photo by Billie Weiss/Getty Images) /
Unimpressed with the collective performance of their placekickers in 2019, the New England Patriots added Joe Houston to their coaching staff for 2020.
There's no sense tap dancing around it: the New England Patriots suffered in 2019 because of their kicking game.
Usually one of the more reliable teams in the NFL when it comes to converting successful field goals, the Pats actually finished the season ranked 19th out of 32 teams in field goal percentage, coming in at a dismal 79.4%. Collectively, New England's kickers missed seven field goals during the season.
Even more disturbingly, the Patriots finished 29th out of 32 teams in extra point attempts, nailing just 39 of their 45 tries for an 86.7% success rate in that category. Only the Cleveland Browns, New York Jets, and Indianapolis Colts were worse in 2019 at tacking on the extra point after a touchdown.
These facts and figures are all the more surprising when you consider that kicking has been a position of strength for the Patriots for decades now. New England was fortunate enough to go from Adam Vinatieri to Stephen Gostkowski, with just a minor blip of a transition in between.
Say what you will about Vinatieri's loyalties after moving from the Patriots to the Colts (who were then New England's biggest rival at the time), or about Gostkowski's struggles early this past season and occasional tendency to miss kicks in the biggest of playoff games and Super Bowls, both of those players rank among the NFL's best — not just in recent memory, but in all-time history.
Yet, something was clearly amiss with Gostkowski last season. He missed four extra point attempts and one field goal before the team put him on IR with a season-ending hip injury that required surgery. The Patriots then shuffled through a number of mediocre free agent kickers, including Kai Forbath and Mike Nugent, before finally settling on Nick Folk.
Folk was solid enough considering the circumstances. He did miss three field goals during the season, but they were all between 40-49 yards at least. He also drilled 12 out of 12 extra point attempts.
Whether or not Folk will be back next season probably — probably being the key word here — depends on Gostkowski's recovery and health.
Either way though, it appears that Bill Belichick and New England brass aren't about to sit idly by and play a game of chance again in 2020 when it comes to their kicking game. According to The Boston Globe's Nora Princiotti, the Pats have reached a deal to add special teams coach and reported "kicking whisperer" Joe Houston to their staff for the upcoming season.
Houston was a successful college kicker at USC before finding his way to the sideline at Iowa State and then Alabama under Nick Saban. He becomes the second Crimson Tide staffer in the past year to go from working under Saban in college to working under Belichick in the pros. (Belichick and Saban are very good friends and colleagues, of course.)
Hopefully, whether it's Gostkowski, Folk, or another kicker entirely who lines up to try and take field goal and extra point attempts in 2020, the position can once again become a source of stability and consistency up in New England. Houston will presumably be the man to help on this front, since Patriots fans are unaccustomed to having to hold their breath every time their kicker trots out on the field.