Retired Patriots WR Julian Edelman shares unique Randy Moss story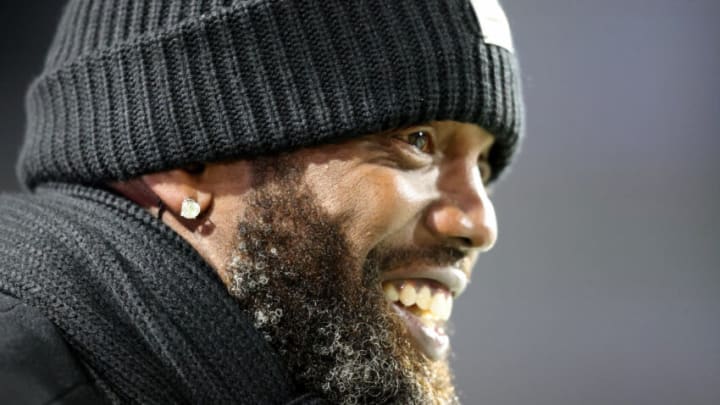 ORCHARD PARK, NEW YORK - DECEMBER 06: Randy Moss reacts prior to a game between the Buffalo Bills and the New England Patriots at Highmark Stadium on December 06, 2021 in Orchard Park, New York. (Photo by Bryan M. Bennett/Getty Images) /
New England Patriots wide receiver Julian Edelman shares a unique, funny, unheard of but insightful story about Hall of Fame WR Randy Moss.
This past Friday, the New England Patriots displayed a disappointing performance against the Las Vegas Raiders that has many concerned. However, this should lighten the burden of realizing the Patriots may be in serious trouble with the regular season rapidly approaching. Last week on the Rich Eisen Show, former Patriots' WR Julian Edelman was featured and he shared some interesting stories. One, in particular was about former Patriots' receiver Randy Moss.
Prior to nosediving into this story, it must be prefaced that Moss earlier in his career was a bit of a loose cannon, to say the least. Unfortunately, throughout his career, he developed a reputation as a player who became unpredictable and hard to rein in at times. This can be seen as a gift and a curse depending on who's telling the story.
However, the Hall of Fame WR during a meeting decides to break down the murder case he'd seen the night prior on Dateline NBC. Edelman recalls several moments from his rookie season where Moss would regularly want to discuss random shows he saw prior to the final walkthrough.
""Breaking down, every Saturday. Our receiver coach would get so, like, 'Hey Randy, we got a coach the meeting,'" Edelman said on the "Rich Eisen Show" last week."
At the time, the WRs coach was Chad O'Shea, who was a rookie in his own regard with the Patriots. Back then, the WR room was extremely talented and this featured Moss with Wes Welker during some of the most historic moments in Patriots' history.
Edelman notes that O'Shea wouldn't be too happy hearing Moss discuss silly things during their time of business. However, it's Randy Moss, he can do as he pleases and as a rookie coach attempting to discipline a certified HOFer seems to be an uphill battle.
""Hearing him breakdown murders and all these things that — anything that happened on '60 Minutes.' Randy would have him — he's so country. He's got that, 'Hey Edelnut, you watch that 60 Minutes?' I'm like, 'No Randy, I didn't.' He goes, 'Well this (expletive) tried to kill his wife to get the (expletive).' Like, that's how he would talk."We would have to stop the meeting, the receiver meeting, and Randy would get in there," Edelman continued. "I remember Chaddy O'Shea, he's our coach, he was a first-time coach at the Patriots that year. He would sit there and you can see him just shaking his head like, 'Hey Randy, we've gotta coach some things.' He's like, 'Hey, wait up, Chaddy O, I got this (expletive).'""
Randy Moss's short stint with the Patriots 
With all this being said, Moss still managed to catch 83 passes for 1,264 yards and 13 touchdowns, per ESPN. Another star, Welker, caught 123 passes for 1,348 yards and four touchdowns. While Edelman didn't have the most successful season, what he learned from these two greats transformed into the Edelman Pats' fans know today.
Sadly, that was Moss' final season with the New England Patriots. The Pats traded Moss to the Minnesota Vikings in October of that year. for a third-round pick.