Patriots' Gillette Stadium wins host duties for 2 massive sporting events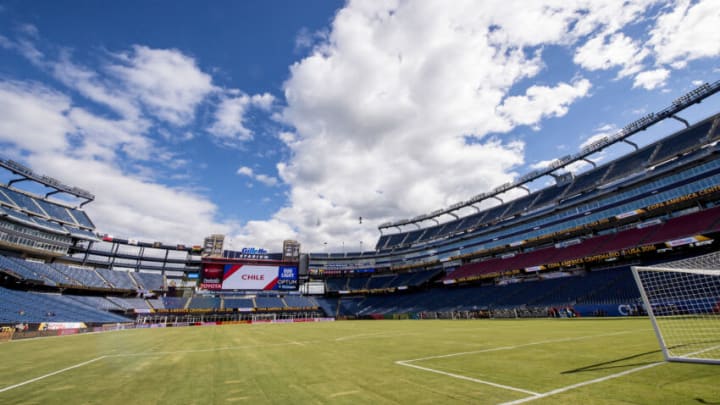 FOXBOROUGH, MASSACHUSETTS - JUNE 10: General view of Gillette Stadium prior to a group D match between Chile and Bolivia at Gillette Stadium as part of Copa America Centenario US 2016 on June 10, 2016 in Foxborough, Massachusetts, US. (Photo by Billie Weiss/LatinContent via Getty Images) /
The New England Patriots recently suffered a devastating one-year break from contention, a problem they luckily solved by drafting Mac Jones just in the nick of time. Now, with Jones' steady hand in charge of things, the Pats should provide the fans at Gillette Stadium competitive football and marquee events well into the 2030s.
And that's not all. This week, Robert Kraft and the Patriots family added two massive events to Gillette's future docket, and getting tickets the second they're available would likely be a good idea.
The wide-ranging win? Boston and the Pats learned on Thursday that they'd be one of the US host sites for the 2026 World Cup, an event that hasn't been on North American soil since 1994.
Suffice to say, FIFA didn't award any crucial matches to Foxboro Stadium back then, nor did any international superstars pose with Drew Bledsoe or Bill Parcells.
This time around, Hunter Henry handled announcement duties for Pats Nation, clearly excited to check out some group stage action after snagging a bite at Patriot Place.
New England Patriots to host World Cup, Army-Navy at Gillette Stadium
The list of 2026 World Cup host cities includes plenty of NFL hotbeds; in addition to Boston (the only one that matters), other football-mad stadiums involved include Los Angeles, Dallas, SF/Bay Area, Miami, Atlanta, Seattle, Houston, Philadelphia, Kansas City and (smallest font possible) New York/New Jersey.
But Patriots fans won't have to wait four years to watch some national action at their regional hub. Thanks to a push from Bill Belichick and Robert Kraft, Gillette will also host the Army-Navy Game on Dec. 9, 2023.
The now-roving event will represent the 124th meeting between the two historic rivals.
Don't worry, Coach Belichick. Just because the game's on your turf does not mean you need to pretend to be impartial. Wave that Navy pennant with pride.
Both the World Cup and Army-Navy showdown should bring a significant dose of extra joy to the region. Add in all the AFC Championships Gillette will host between now and 2026, too, and you really might have something here.