Patriots: Dont'a Hightower's comments on facing Tom Brady are awesome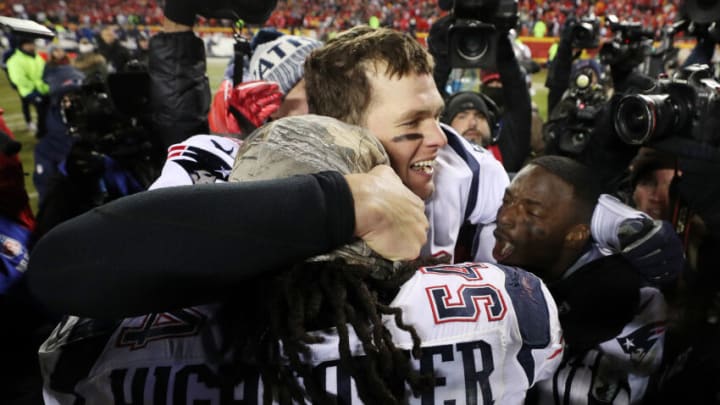 KANSAS CITY, MISSOURI - JANUARY 20: Tom Brady #12 of the New England Patriots celebrates with Dont'a Hightower #54 after defeating the Kansas City Chiefs in overtime during the AFC Championship Game at Arrowhead Stadium on January 20, 2019 in Kansas City, Missouri. The Patriots defeated the Chiefs 37-31. (Photo by Patrick Smith/Getty Images) /
Before the NFL released its schedule for the 2021 season, fans already knew that the New England Patriots would face the Tampa Bay Buccaneers.
Needless to say this matchup is shaping up to be the most anticipated game of the entire campaign, as it'll signify Tom Brady's first return to Foxborough since he departed as a free agent to sign with the Buccaneers last offseason.
We now know the box-office showdown will take place in Week 4, so Patriots fans won't have a lot of time to mentally prepare for what should be an emotional weekend.
As crazy as it sounds, we haven't heard much from current Patriots players, and former Brady teammates, in terms of their thoughts about the game.
After all, you can only imagine how nostalgic it'll be for veterans like Dont'a Hightower and Devin McCourty.
Well, during a recent interview with the Boston Globe, in which he opened up about his return to football after he opted out of last season, Hightower made some awesome comments about facing off against Brady for the first time as opponents.
Dont'a Hightower is looking forward to playing against Tom Brady.
For any Patriots fans curious as to whether Hightower will ease up on Brady if he has the opportunity to sack the 43-year-old QB, well, don't be. Once the Pats and Bucs step in between the lines, Hightower's and Brady's relationship will go out the window for three hours.
""It's going to be good to see 12 again," Hightower said. "I've been going against him in practice for so long, I'm looking forward to playing against him.""Oh, you mean, like, 'soft sacking' him? Nah, you can't do none of that stuff with him, man. He's trying to throw touchdowns. No, in between the lines, it's football. I'm sure he wouldn't expect anything different.""
If we know anything about Hightower, it's that he competes at the highest possible level regardless of the opponent and is no doubt hoping for a chance to lay a hit on Brady. Just one, though, obviously. You can't be inflicting too much pain on one of your lifelong friends.
In all seriousness, Hightower is one of the last members standing from the Pats' dynasty, as he was teammates with Brady from 2012 to 2019. During that span, New England took home eight division crowns, four AFC titles and three Super Bowl rings (four appearances).
Of course, it was Hightower's strip sack of Matt Ryan in the fourth quarter of Super Bowl LI that helped seal the largest comeback in SB history. That victory helped Brady cement his status as the greatest player in NFL history, so you better believe he hasn't forgotten Hightower's heroics.
However, that friendship will turn into a brief rivalry once Oct. 3 rolls around.