Patriots: Julian Edelman just passed locker room torch to Matthew Slater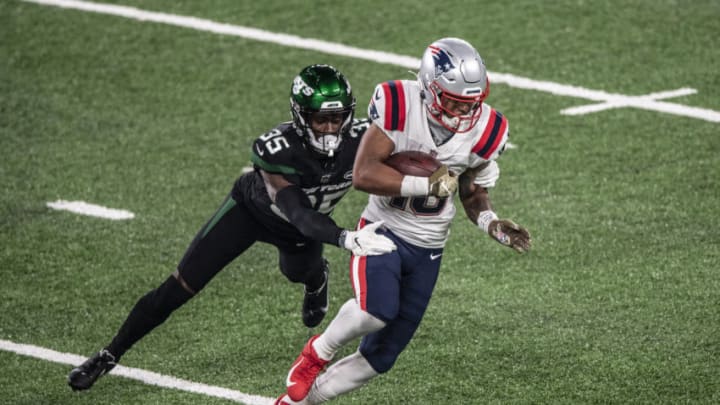 EAST RUTHERFORD, NJ - NOVEMBER 09: Matthew Slater #18 of the New England Patriots (Photo by Benjamin Solomon/Getty Images) /
The New England Patriots are slowly seeing some of the ever-present rocks from their championship teams of yesteryear fly away, as Tom Brady decided to take his talents to Tampa Bay while Julian Edelman decided to hang up his cleats and retire.
One of the few members from those old teams still around is special teams ace Matthew Slater.
Slater picked up his ninth Pro Bowl appearance with New England last year, all of which have come as a special teamer due to his skill as a gunner on punt coverage and a sure tackler on kickoffs.
Who better than to maintain New England's trademark culture than someone who has seen New England reach the mountaintop several times over?
While Edelman has spent most of the early parts of his retirement in a pretty jovial mood, trading stories about what it was like to play under Bill Belichick, he took some time to get serious on Slater, whom he credits as a transformative force in his career.
In response to a glowing quote from Slater on the pair's friendship and what the former Kent State quarterback meant to this team, Edelman claimed that Slater taught him "more than he'll ever know" before saluting him as a true gentleman and professional.
The Patriots will lean on Matthew Slater plenty without Julian Edelman.
Slater jokingly called Edelman "Mr. GQ" in his quote, as he was comparing the confident Super Bowl champion to the quarterback-turned-receiver with a buzzcut that he remembers seeing in training camp all those years ago.
The Patriots are undertaking a bit of a youth movement, as the selection of Mac Jones in the first round proved that Belichick is trying to get rid of some of the vestigial elements of their most recent dynasty. Given what he means to the team, Slater is sticking around until he physically can't do it anymore.
Having turned a fifth-round selection into a career many consider the best ever from a special-teamer, Slater can be that presence that Edelman and Brady helped provide off the field. Even without any quantitative measures of his impact, it can't be understated.
Slater has had one of these most unique careers in NFL history. He's carved out a role on some of the best teams ever by taking on his special teams challenge with aplomb and determination. That's a guy who Bill Belichick needs to influence younger players and keep the spark among veterans in the locker room.