Details prove Patriots were behind Bill Belichick's Medal of Freedom statement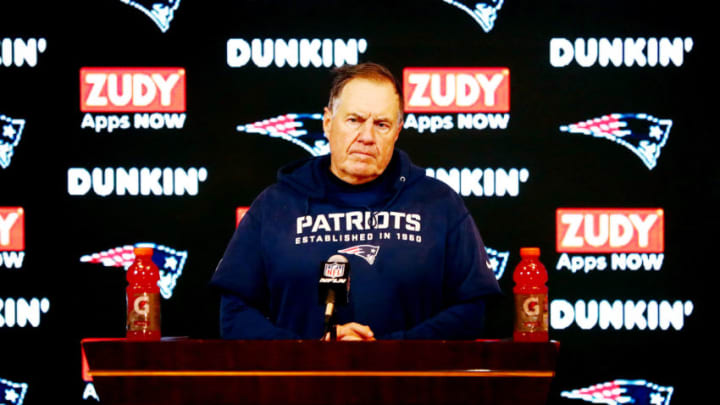 New England Patriots head coach Bill Belichick (Photo by Adam Glanzman/Getty Images) /
It would appear that Patriots HC Bill Belichick wasn't working alone in his decision to reject President Trump's gesture.
The normally-spoiled Patriots fan base has really been through it all this season. From watching the team produce its worst campaign in 20 years, to witnessing the initially lauded Cam Newton signing blow up in their face and having to stomach Tom Brady registering one of the most prolific regular seasons of his career, there has been no shortage of nauseating storylines.
As if that wasn't enough, the Patriots' earliest offseason in over a decade got off to a troubling start when head coach Bill Belichick was offered the Presidential Medal of Freedom by Donald Trump. To his credit, the six-time champ turned down the gesture in light of the disturbing events that unfolded at the Capitol last week.
We responded by lauding Belichick for refusing to accept such a tainted honor, but that appears to have been an incomplete reaction on our part. According to insider Mike Florio of Pro Football Talk, the Patriots got out ahead of things and very much pressured Belichick to decline the award.
Here's a snippet of Belichick's statement that validates Florio's claim.
""I know I also represent my family and the New England Patriots team. One of the most rewarding things in my professional career took place in 2020 when, through the great leadership within our team, conversations about social justice, equality and human rights moved to the forefront and became actions.""
While Florio couldn't speak to whether Belichick's family played a role in his decision to reject the medal, his sources claim the Patriots did.
On top of that, he reported that the 68-year-old's decision mostly boiled down to maintaining his reputation and not the effect of the historic black eye that was the mob of Trump supporters who attempted to seize the Capitol, which ultimately resulted in five people losing their lives.
""Per multiple sources, Monday included extensive discussions and communications within the Patriots organization aimed at getting Belichick to choose a path that would preserve his reputation and the reputation of the team he coaches," Florio wrote. "Whether in the form of fan complaints, media critiques, or free-agent consternation, multiple reasons existed for Belichick deciding to keep his distance from Donald Trump.""
With all of this in mind, it's certainly worth speculating what fueled Belichick's seemingly commendable decision. This subject is so sensitive and slippery that we're not going to jump to conclusions, but it really makes you wonder if the suffocating pressure from both the Patriots and the public coerced Belichick into refusing President Trump's gesture.