Bill Belichick comments on rumored Stephon Gilmore trade talks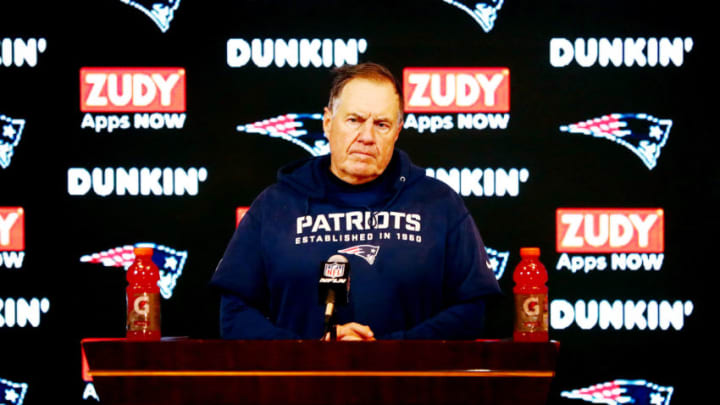 New England Patriots head coach Bill Belichick (Photo by Adam Glanzman/Getty Images) /
Patriots head coach Bill Belichick commented on the trade rumors surrounding cornerback Stephon Gilmore.
The trade deadline buzz suggested that the New England Patriots could engage in a fire sale if they lost to the Buffalo Bills this past Sunday. When the dust settled, however, head coach Bill Belichick's side came up short after Cam Newton fumbled on the potential game-winning drive and no players were sold.
In fact, the only business New England partook in was acquiring wide receiver Isaiah Ford from the Miami Dolphins in exchange for a seventh-round pick in 2022 — a deal that perfectly encapsulated the lack of blockbuster action leading up to the deadline.
In terms of unloading players, cornerback Stephon Gilmore was widely reported as the most likely member of the Patriots to be dealt, but Nov. 3 came and went without any real indication that a trade was imminent.
Well, Belichick was asked on Wednesday if the organization entertained offers for Gilmore and he lived up to his polarizing reputation by providing a blunt and vague response.
Wait, so Belichick's answer to a question gave reporters and the fan base literally zero insight into the important matter at hand? We've been down this road far too many times over the last 20 seasons, folks.
In all seriousness, it probably wouldn't have been great for morale if Belichick came out publicly and admitted that he was actively shopping arguably the best player on the team leading up to 4 p.m. ET on Tuesday.
We'll probably never know for certain if the Patriots were striving to unload Gilmore, but the fact that their supposed asking price surfaced  — ESPN insider Dianna Russini reported that they were demanding a first-round pick and a player in return for him — suggests that they were.
With Belichick admitting earlier in the week that 2020 is essentially a reset year for the Patriots, perhaps him holding onto Gilmore hints that he has a master plan for the offseason that will help morph them back into contenders.
Either way, the All-Pro corner is signed through next season and Belichick will once again have to decide whether to extend or trade him, because there's no way he shows up to OTAs or training camp with a $7 million salary.