Patriots: Latest move suggests Pats preparing for fans at Gillette Stadium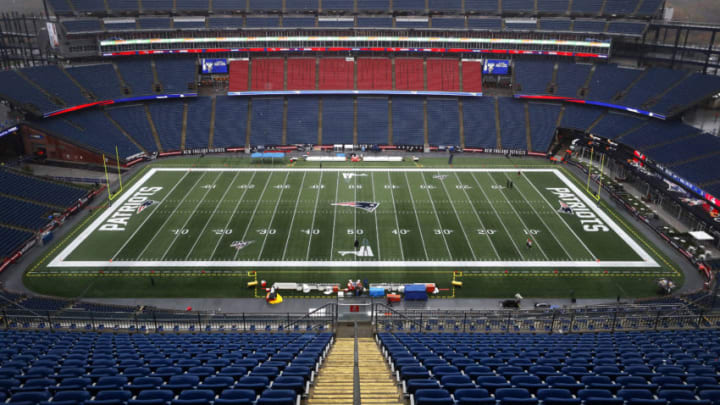 FOXBOROUGH, MASSACHUSETTS - OCTOBER 27: A General view of Gillette Stadium before the game between the New England Patriots and the Cleveland Browns at Gillette Stadium on October 27, 2019 in Foxborough, Massachusetts. (Photo by Omar Rawlings/Getty Images) /
Patriots fans might be allowed in Gillette Stadium in 2020 after all, thanks to a keen observation.
The NFL has treated the 2020 season in much the same way the federal government did in their COVID-19 response: state-by-state, you all figure it out yourselves. Patriots fans have ended up left out in the cold, with New England's restrictions tighter than those in, say, Kansas City.
While there's no monstrous advantage to having 15% of your stadium's capacity filled instead of a harsher zero, it's still proven to be a comforting fact for fans hoping to get back some semblance of normalcy sooner rather than later.
And, based on what some Patriots media members observed prior to Sunday's game against the Las Vegas Raiders, Foxborough may be preparing to follow suit after several weeks of successful experiments throughout the league.
Social distancing markers were spotted outside some Gillette Stadium concession stands ahead of Week 3, the kind of thing that's only necessary if, you know, you intend on having people stand in those lines.
Following this game against the Raiders, the Pats will travel to Kansas City to experience the homefield mini-advantage of fan attendance for themselves. The next home tilt on the schedule is Week 5 against the Denver Broncos, and based on the signs we've been gifted here, we'd keep our eyes on that one. Who doesn't want to socially distance and watch Jeff Driskel?!
Hopefully, if the Patriots do intend to let fans into Gillette this year, they work hard on improving their team's weapons, too. After all, you don't bring Pats Nation into the stadium simply to allow them to boo up close.
Expect this trend to continue — though the sight of fans at Kansas City and Houston's Thursday night opener was jarring, more stadiums have allowed fans in the weeks that followed. Though the COVID-19 pandemic is very much still a threat, which will likely only increase as the temperatures drop, the NFL believes in letting each team run their own domain.
Hopefully, the numbers hold steady long enough (or, honestly, decrease!) for the Patriots to put this apparent plan into action.