Patriots: Antonio Brown's latest un-retirement proves NE needs to stay far away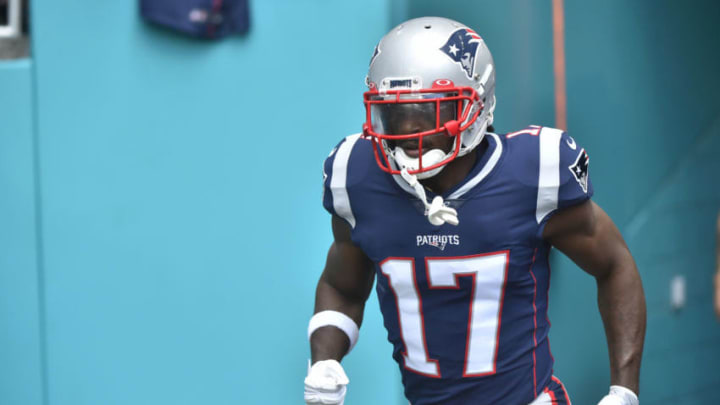 MIAMI, FL - SEPTEMBER 15: Antonio Brown #17 of the New England Patriots during warmups before the start of the game against the Miami Dolphins at Hard Rock Stadium on September 15, 2019 in Miami, Florida. (Photo by Eric Espada/Getty Images) /
Former Patriots WR Antonio Brown ended his latest retirement.
For anybody who thought that the Antonio Brown drama was over, well, shame on you. The free agent wide receiver is back making headlines seemingly every other day, and the details confirm that he's stoking the flames.
The 32-year-old started the week by posting a cryptic photo of him in a Patriots uniform — which bizarrely prompted a response from Cam Newton — and implied that he was eyeing a return to the franchise. A few days later, however, he declared that he was done with the NFL and retired yet again.
Fast forward to Wednesday night, and Brown took to Instagram to reveal his intention to resume his pro career. Furthermore, he called on the league to resolve its personal conduct investigation, which began approximately 10 months ago.
Brown has been a free agent since September when he was released by New England (less than two weeks after joining the team) following sexual assault and rape allegations. Photos also allegedly showed the seven-time Pro Bowler sending vulgar and threatening text messages/emails to his accuser once the charges came to light.
We don't disagree that the NFL is taking forever to conclude its investigation, but Brown is acting as if he wasn't asking for this to happen. Regurgitating a full timeline of his antics isn't necessary, so we'll just say that he took the privilege of being a professional athlete for granted and has literally retired dozens of times.
For all the Patriots fans out there who might want Brown back on the team, proceed with caution. The last thing Bill Belichick needs after this tumultuous offseason is another circus coming to New England.
After all, Brown doesn't even know if he wants to return to football!
It's going to take more than a passionate Instagram post and Brown attending his court-ordered anger management course for the NFL to even consider reinstating him. If and when that happens, you have to think that a potentially lengthy suspension will be waiting for him.
Stay far away, Patriots.