Ranking the New England Patriots' Super Bowl losses by heartbreak level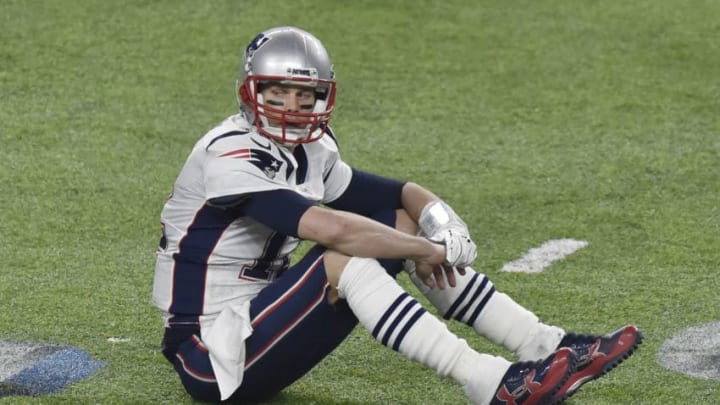 MINNEAPOLIS, MN - FEBRUARY 04: Tom Brady #12 of the New England Patriots sits on the field an looks on after a play against the Philadelphia Eagles during Super Bowl LII at U.S. Bank Stadium on February 4, 2018 in Minneapolis, Minnesota. The Eagles defeated the Patriots 41-33. (Photo by Focus on Sport/Getty Images) *** Local Caption *** Tom Brady /
MINNEAPOLIS, MN – FEBRUARY 04: Tom Brady #12 of the New England Patriots fumbles the ball while being sacked by Brandon Graham #55 of the Philadelphia Eagles in Super Bowl LII at U.S. Bank Stadium on February 4, 2018 in Minneapolis, Minnesota. (Photo by Michael Zagaris/Getty Images) /
2. Super Bowl LII vs Philadelphia Eagles (2017)
Some people might make the argument that both Super Bowl losses to the Giants (XLVI and XLII) should occupy the "top" spots on this list simply because of the improbable catches made by Mario Manningham and David Tyree, and how each one felt like a hot spike going through your eyeballs while watching it happen.
I'd beg to differ though.
While there's no question that the failed perfect season takes the cake as the single biggest moment of heartbreak in Patriots franchise history, I'd argue that New England's loss to Philadelphia in Super Bowl LII is second on this list. A distant second, but second all the same.
Keep in mind that this exciting thrill-ride of a championship game featured numerous NFL records getting broken and then reset, including most yards gained in an NFL game by both teams combined (1,151), fewest punts from both teams in a Super Bowl (one), and most points scored by a Super Bowl losing team (33).
In short, it was like the polar opposite of Super Bowl LIII … a game the Patriots actually won. But ask most New Englanders if they'd rather have won Super Bowl LII or Super Bowl LIII, and I'm willing to bet almost all of them will say they'd rather have won this game.
It's just more exciting and fun to say you won a shootout like this as opposed to the lowest-scoring Super Bowl in NFL history — which, if we're all being honest, was objectively a bit boring at times (the second Rams game, not the second Eagles game).
Keep in mind: Brady threw for 505 yards and had three touchdowns, zero interceptions, and a 115.4 quarterback rating … and the Patriots lost. Meanwhile, Nick Foles — the Eagles' backup QB — beat him and won Super Bowl MVP.
To be fair, Foles didn't beat Brady. Foles beat the Patriots defense.
Strangely, just a year before New England's defense put on a clinic in shutting down the L.A. Rams' historic offense in Super Bowl LIII (something many analysts described as the greatest defensive performance in Super Bowl history), the Patriots D was Swiss cheese against the Eagles.
This game had it all. Points, yards, lead changes, replay drama.
The Patriots fell behind early like they usually do in these situations — they were down 15-3 midway through the second quarter — before rallying to come within three.
With 34 seconds left until halftime though, Eagles head coach Doug Pederson had a little sideline coversation with Foles about something called the "Philly Special" — two words that will forever traumatize Patriots fans everywhere now — and a trick play later, the Eagles were up by 10 at the half.
New England didn't lead in this game until they went ahead by one, 33-32, on a four-yard Rob Gronkowski touchdown reception with 9:22 left in the game. Philadelphia answered with a touchdown catch from their own tight end, Zach Ertz, to go up 38-33 with just over two minutes left (they failed on a two-point conversion attempt).
The game essentially ended with a Brandon Graham strip-sack of Brady that was recovered by Derek Barnett. The Eagles kicked a field goal that made it 41-33, meaning the Patriots would need a touchdown and a two-point conversion to tie it and force overtime.
Never say never — especially not just one year after their improbable comeback against the Falcons in Super Bowl LI — but it was not meant to be. After all that excitement and adrenaline, the Eagles won their first Super Bowl title, and the Patriots' record in Super Bowls fell to 5-5.
Thanks to their win one year later over the Rams, New England improved that mark to 6-5 — the record it currently maintains at present. Still, this game was a real tear-jerker for Pats fans.