Ranking the New England Patriots' Super Bowl losses by heartbreak level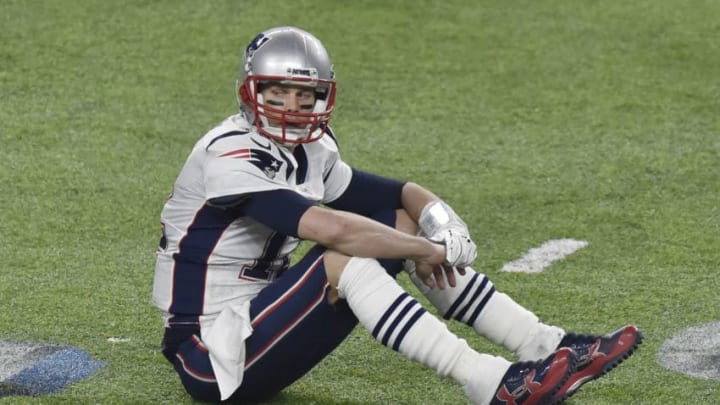 MINNEAPOLIS, MN - FEBRUARY 04: Tom Brady #12 of the New England Patriots sits on the field an looks on after a play against the Philadelphia Eagles during Super Bowl LII at U.S. Bank Stadium on February 4, 2018 in Minneapolis, Minnesota. The Eagles defeated the Patriots 41-33. (Photo by Focus on Sport/Getty Images) *** Local Caption *** Tom Brady /
INDIANAPOLIS, IN – FEBRUARY 05: Mario Manningham #82 of the New York Giants makes a catch on the sidelines against Patrick Chung #25 (L) and Sterling Moore #29 (obscured) of the New England Patriots for a gain of 39 yards in the fourth quarter during Super Bowl XLVI at Lucas Oil Stadium on February 5, 2012 in Indianapolis, Indiana. (Photo by Rob Carr/Getty Images) /
3. Super Bowl XLVI vs New York Giants (2011)
Here's where the tears really start flowing.
The Patriots came into this matchup with the best record and the top seed in the AFC at 13-3. The Giants, on the other hand, were the No. 4 seed in the NFC after compiling a 9-7 record during the regular season.
Sadly enough, this wasn't the first time these two teams met with a championship on the line and very unbalanced records … but again, more on that later. (Sniffle…)
New England knew not to underestimate New York — especially not after what had occurred just four years earlier.
Yet somehow, the Patriots still managed to get off to an embarrassingly sluggish and poor start — something they'd strangely become known for during their Super Bowl appearances in the Brady/Belichick era.
Brady got flagged for intentional grounding in the end zone to start this contest, leading to a safety and an early 2-0 lead for New York. Victor Cruz caught a touchdown from Eli Manning not long after, leading to some of his trademark salsa dancing and some major league nail-biting from Patriots fans who'd seen this movie before.
Touchdown receptions by Danny Woodhead and Aaron Hernandez in the second and third quarters, respectively, along with a Stephen Gostkowski field goal, managed to propel New England ahead 17-9.
The Giants answered with back-to-back field goals from Lawrence Tynes, bringing New York within two.
As is often the case with Patriots Super Bowls, the fourth quarter is where things really heated up and got interesting. Brady overthrew Wes Welker at a critical juncture, and a few of his other receivers — Welker included — dropped a few crucial passes, leading to Gisele's famous "my husband can't throw and catch the ball" comments after the game.
The defining moment of this Super Bowl, however, was the 38-yard reception by Mario Manningham on the edge of the sideline. Not long after, Belichick allowed Ahmad Bradshaw to score a touchdown with less than a minute left to play. The Patriots tried to win on a Hail Mary as time expired, but the pass was batted down.
For most teams in the NFL, this would easily represent the low-point for your franchise in terms of emotional heartbreak.
Unfortunately (in this instance at least), the Patriots are not like most teams in the NFL.