Ranking the New England Patriots' Super Bowl losses by heartbreak level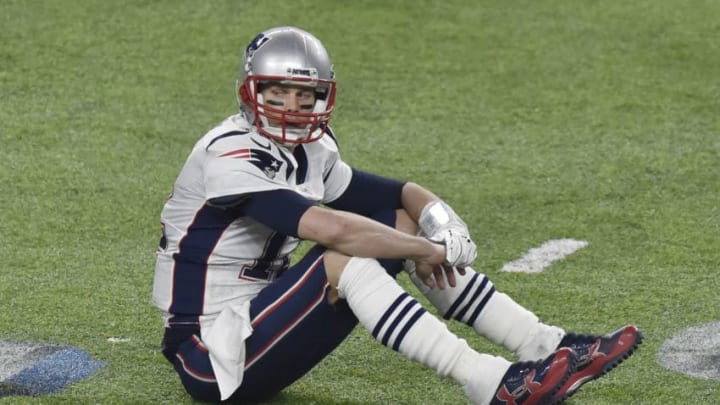 MINNEAPOLIS, MN - FEBRUARY 04: Tom Brady #12 of the New England Patriots sits on the field an looks on after a play against the Philadelphia Eagles during Super Bowl LII at U.S. Bank Stadium on February 4, 2018 in Minneapolis, Minnesota. The Eagles defeated the Patriots 41-33. (Photo by Focus on Sport/Getty Images) *** Local Caption *** Tom Brady /
LOUISIANA, NO – JANUARY 26: Jimbo Covert #74 of the Chicago Bears dives for a fumble with Larry McGrew #50 of New England Patriots during Super Bowl XX January 26, 1986 at the Louisiana Superdome in New Orleans, Louisiana. The Bears won the Super Bowl 46-10. (Photo by Focus on Sport/Getty Images) /
5. Super Bowl XX vs Chicago Bears (1985)
Not that it's ever easy to lose in the championship of any sport, but if you have to lose, you may as well do it to a legendary team of destiny.
Sure, some might argue that this loss stings more because the '85 Bears are such an iconic team, and because of that, the Patriots will always be remembered for coming up short on the other end of that situation.
But honestly, who really expected New England to win this game even then?
The Patriots entered the playoffs that year as the No. 5 seed with an 11-5 record, whereas the Bears were the No. 1 seed at 15-1.
Of course it was impressive that New England won three straight playoff games en route to their first Super Bowl appearance. And yes, it would have been the ultimate David versus Goliath Cinderella story if the Pats had somehow found a way to defeat Mike Ditka and Buddy Ryan's Bears.
But the '85 Bears are on that same exalted level of NFL existence occupied by teams like the '72 Dolphins and the '07 Patriots (more on them later).
Even as Patriots fans, it would have been anticlimactic and frankly unfair for a team as talented and historic as Chicago was that season to ultimately come up short just because they played poorly for three random hours during Super Bowl Sunday.
As we all know, the Bears did not play poorly — they clobbered the Pats 46-10.
Moving on…