Ranking the New England Patriots' Super Bowl losses by heartbreak level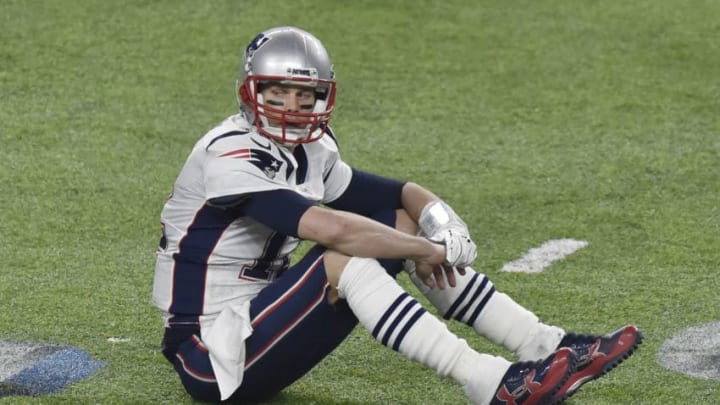 MINNEAPOLIS, MN - FEBRUARY 04: Tom Brady #12 of the New England Patriots sits on the field an looks on after a play against the Philadelphia Eagles during Super Bowl LII at U.S. Bank Stadium on February 4, 2018 in Minneapolis, Minnesota. The Eagles defeated the Patriots 41-33. (Photo by Focus on Sport/Getty Images) *** Local Caption *** Tom Brady /
The New England Patriots may have won as many Super Bowl titles as any other team, but they've also lost as many as any other team too.
Sometimes it's okay to cry … even in sports.
Ask even the burliest, meanest, toughest people on the planet, and there's a very good chance that each and every one of them has shed a few tears at least once, if not on multiple occasions throughout their life.
For many, many years, the New England Patriots were one of the worst teams in professional football. Across the first 11 years of their existence as the Boston Patriots, this franchise made the postseason but once and had a losing record more times than a winning one.
The Pats were similarly bad throughout the majority of the 80s and 90s before finally gaining some degree of respectability under Bill Parcells, Pete Carroll, and then ultimately Bill Belichick of course.
With the arrival of Belichick and quarterback Tom Brady, New England finally established a winning culture — one that spawned arguably the greatest dynasty in the history of professional sports over the past 20 years.
But as much as the Patriots have now won, they've also lost quite a bit as well — especially on the game's greatest stage.
New England simultaneously holds two very different distinctions right now as having both won and lost the most Super Bowls in NFL history. The Patriots are tied for each record — they and the Steelers have each won six Lombardi Trophies, while they and the Broncos have each lost five Lombardi Trophies.
But not all losses are created equal.
Let's take a look at all five Super Bowl losses, starting with the one that hurt the least and finishing with the one that still keeps fans up at night.