New England Patriots: Grades and analysis on full 2020 draft class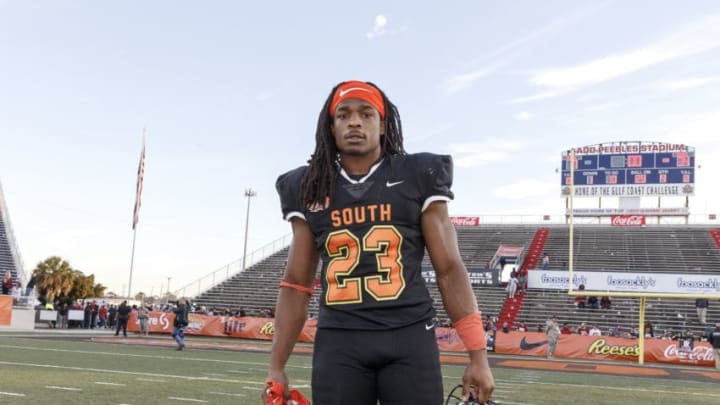 MOBILE, AL - JANUARY 25: Safety Kyle Dugger #23 from Lenoir Rhyne of the South Team pose after the 2020 Resse's Senior Bowl at Ladd-Peebles Stadium on January 25, 2020 in Mobile, Alabama. The Noth Team defeated the South Team 34 to 17. (Photo by Don Juan Moore/Getty Images) /
The New England Patriots did a decent job addressing several of their key roster holes, but they also neglected some crucial positions as well.
There were even more eyes than usual on the New England Patriots during the 2020 NFL Draft.
Usually, the team attracts plenty of attention because they have a giant target on their back. That's what happens when you enjoy the success of not just one, but two separate dynasties bookending a 20-year run of incredible dominance and winning.
That run may or may not have come crashing to a halt though in 2020 … right along with the rest of the world as it grapples with the coronavirus pandemic.
Bill Belichick, Josh McDaniels, Nick Caserio, and Robert Kraft were all still active to varying levels and extents during the 2020 NFL Draft, just as they have been for seasons upon seasons now this millennium.
The Patriots' actual roster though entering this draft was as different as it's ever been under the stewardship of those four central figures.
For the first time since 1999, Tom Brady is no longer on the roster. He didn't retire either — instead, he linked up with old pal Rob Gronkowski down in Tampa Bay to form a super-team (at least on offense).
Brady's not the only familiar face to Patriots fans they won't be seeing on the field in 2020. Stephen Gostkowski, the team's placekicker since 2006, is also gone. So, too, are defensive mainstays Kyle Van Noy, Jamie Collins, Duron Harmon, Danny Shelton, and Elandon Roberts. Offensively, the Pats also lost Phillip Dorsett and Ted Karras.
Heading into this draft, many analysts and pundits identified the top areas of need for New England as follows: quarterback, wide receiver, tight end, offensive lineman, linebacker, defensive tackle, defensive end, kicker, and, to a lesser extent, safety.
Areas of perceived depth and strength were fewer and far between, but included running back, fullback, cornerback, and punter.
So, how did the Patriots do in fixing up some of their holes?
Well … it's complicated.
Here's who they selected, as well as our grades for each pick:
Kyle Dugger, S, Lenoir-Rhyne (second round)
New England's first pick of this draft came in the second round on Friday night when they selected Division II safety Kyle Dugger.
Dugger looks like the prototypical Patriot, even though he hails from a much smaller school and didn't face the same high level of competition that some of his draft contemporaries did.
The good news is he should have plenty of time to learn and develop behind Devin McCourty and Patrick Chung in 2020.
While he's an excellent pick, it's a bit high for a position that the Pats really didn't need to immediately address, so they get a slight downgrade here. Grade = B+
Josh Uche, DE, Michigan (second round)
The Pats traded back into the second round to select outside linebacker/defensive end Josh Uche out of Michigan on Friday.
Uche fills a more immediate area of need for New England than Dugger. Especially considering the departure of Van Noy to Miami, Uche could conceivably step in right away this upcoming season and start replicating some of Van Noy's old duties on defense: namely, pressuring the quarterback and trying to hit on the big, change-of-momentum plays. Grade = A
Anfernee Jennings, OLB, Alabama (third round)
Not long after they took Uche in the second round, the Patriots came back to take another linebacker thumper in selecting Anfernee Jennings out of Alabama during the third round on Friday.
Any Crimson Tide player is a solid pick in our books, especially considering the close relationship between Alabama head coach Nick Saban and Belichick. You know Belichick came to Saban about this prospect ahead of the draft and that Saban gave him the stamp of approval and full vote of confidence.
It's enough to make us optimistic on his abilities to contribute to the linebacking corps in 2020, which desperately needs help after all the losses in free agency. While Uche is better at getting after the quarterback, Jennings' strength is perceived to be setting the edge and stopping the run. Grade = A
Devin Asiasi, TE, UCLA (third round)
Similar to linebacker, the Patriots really needed to address their tight end position in this draft.
Many had Dayton's Adam Trautman or Notre Dame's Cole Kmet mocked to New England. While Belichick couldn't have taken Kmet if he wanted to (at least not here — he was already gone), he still could have selected Trautman if he believed in all the hype and mock drafts out there on the Internet.
But Belichick decided to take Asiasi instead out of UCLA.
Asiasi isn't a bad prospect, but he's definitely not a great run-blocking tight end — which is curious, since Belichick and the Patriots have long valued tight ends who can contribute as much as blockers in the run game as they can in receiving.
Perhaps he can be coached up into becoming a better blocker. But it's still a strange pick given he's far from polished as a receiver, either. Grade = C-
Dalton Keene, TE, Virginia Tech (third round)
This is arguably the biggest head-scratcher for the Patriots in this draft.
Virginia Tech's Dalton Keene was a fine football player in limited opportunities, and he did routinely display a trait that Belichick covets in his men: versatility. Keene lined up at running back, receiver, and tight end over the course of his college career, so he certainly has some upside as a utility-type guy.
But he's really not that terrific of a receiver. He's not a speed guy nor is he a finesse one. He's a better blocker than he is a receiving tight end, so perhaps the plan is to use him and Asiasi at the same time or alternating depending on the situation.
Still, spending a third round pick on him seems like an extreme reach at first glance.
Overall, I'd expect the Patriots to target a veteran tight end before all's said and done and September rolls around. Asiasi and Keene, combined with Matt LaCosse and Ryan Izzo, still don't form a tight end group that should scare many opposing defenses around the league. Grade = D
Justin Rohrwasser, K, Marshall (fifth round)
New England began the third and final day of their 2020 NFL Draft with the selection of Marshall Thundering Herd placekicker Justin Rohrwasser in the fifth round. He was the first kicker taken in this draft.
It shouldn't surprise anyone that the Patriots took a kicker before any other NFL team. What is a bit more surprising is that they took one in the fifth round.
Granted, they spent a fourth round pick on Stephen Gostkowski back in 2006 and he turned out to be well worth it, so here's hoping the same can be said of Rohrwasser.
Still, it's a bad sign when the dominant news story surrounding your brand new kicker has more to do with an alt-right tattoo on his arm than his actual kicking ability. Grade = C
Michael Onwenu, OG, Michigan (sixth round)
Though the Patriots came into this draft with arguably the best guard tandem in the NFL in Joe Thuney and Shaq Mason, it was expected for them to take a guard at some point. Thuney is set to play the 2020 season under the franchise tag and thus carries an enormous cap charge with him — it wouldn't be a surprise to see the Pats try and move him still if they can get the right compensation via trade.
Even if he sticks around though — or if his camp and New England come to a new contract extension — the position needs better depth. Jermaine Eluemunor, Najee Toran, and Hjalte Froholdt were the only options behind Thuney and Mason last year, and out of the three of them, only Eluemunor saw significant action or has any kind of proven track record.
Onwenu comes from a great college football program and should immediately challenge the incumbent backups for the top reserve role behind Thuney and Mason. Grade = A-
Justin Herron, OT, Wake Forest (sixth round)
Just as Onwenu is set to challenge for a top backup role behind Thuney and Mason, Justin Herron will go into 2020 with the opportunity to challenge Korey Cunningham and Yodny Cajuste for similar honors behind starters Isaiah Wynn and Marcus Cannon at offensive tackle.
Herron could also play guard, as he revealed after his drafting that the Patriots expressed some interest during their interview process with him in potentially moving him over to one of those positions should it become necessary.
Overall, he hopefully represents a better option than Cunningham, who was a healthy scratch for virtually the entire 2019 season. It probably will come down to Herron and Cajuste, who was a third round draft pick last year before sitting out with an injury, for the top tackle backup role in 2020. Grade = B-
Cassh Maluia, ILB, Wyoming (sixth round)
Maluia fills an obvious area of need by coming to the Patriots as an inside linebacker, but he also comes to the team with very little fanfare.
A part of that could be the fact that his play last season was largely overshadowed by Logan Wilson, who went three rounds earlier to the Cincinnati Bengals. Still, Maluia doesn't have a lot of size or upside coming into the NFL.
Let's hope Belichick knows/sees something the rest of us don't. He usually does, after all. Grade = D
Dustin Woodard, C, Memphis (seventh round)
With their 10th and final selection of the 2020 NFL Draft, the New England Patriots took Memphis center Dustin Woodard.
Woodard offers a lot of versatility to the Patriots, as he's smart enough to play multiple positions along the offensive line. More importantly, however, he immediately slides in as a backup for David Andrews, who should be healthy enough to play all 16 games this season after missing all of 2019 with blood clots in his lungs.
Andrews' backup from last season who ended up starting, Ted Karras, now plays for the Miami Dolphins as their starting center … so Woodard was needed to take his place in 2020. Grade = B+