Patriots have a great opportunity to prove oddsmakers wrong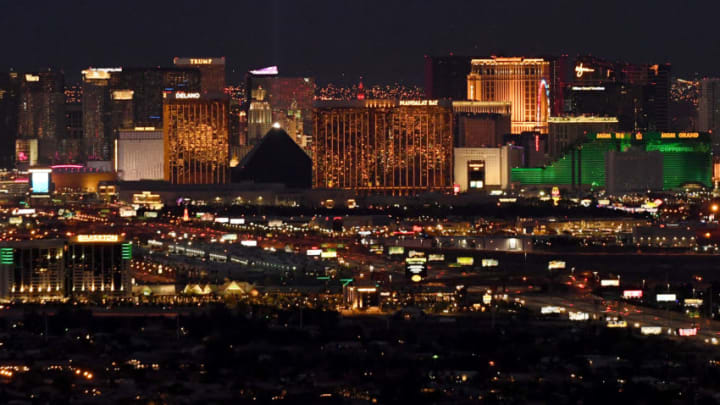 LAS VEGAS, NEVADA - MARCH 18: A general view shows many of the hotel-casinos and other properties that are now closed in response to the coronavirus continuing to spread across the United States on March 18, 2020 in Las Vegas, Nevada. On Tuesday, Nevada Gov. Steve Sisolak announced a statewide closure of all nonessential businesses, including all hotel-casinos on the Las Vegas Strip, by noon today for at least 30 days to help combat the spread of the virus. The World Health Organization declared the coronavirus (COVID-19) a global pandemic on March 11th. (Photo by Ethan Miller/Getty Images) /
The New England Patriots aren't inspiring a lot of confidence when it comes to Las Vegas sportsbooks — and that might be okay.
The future doesn't look bright for the New England Patriots … at least not according to Caesars Sportsbook, one of the largest oddsmakers in Las Vegas.
The popular betting company announced on Thursday that they'd set the over/under for the Patriots' season win total at just 8.5 games, according to ESPN's Joe Klingele. If it stands, that will be the lowest number for New England since 2003.
Of course, that season also ended with the Patriots' second Super Bowl win, so we all need to keep that in mind as we process the impact and ramifications of these odds and projections.
ESPN's Ben Fawkes notes that William Hill, MGM, and FanDuel all have slightly more optimistic win totals projected for the Patriots, but not by much: all three sportsbooks have New England winning 9 games this year. DraftKings has them at 9.5.
Caesars also projects the Buffalo Bills to win 9 games and — as crazy as it sounds — to win the AFC East as well. The Bills are +100 favorites to wrap up the division while the Patriots lag behind them at +140.
New England is 20-1 to win the Super Bowl this year, according to Caesars. That means they have worse odds than Kansas City (4-1) and Baltimore (8-1) in the AFC, and worse odds than San Francisco (7-1), Dallas (11-1), Seattle (14-1), New Orleans (14-1), Green Bay (16-1), and Tampa Bay (17-1) in the NFC.
Tampa Bay, of course, now has a new starting quarterback in town that's primarily responsible for their dramatic turnaround in the eyes of Vegas.
New England is also 9-1 to win the AFC. The Pittsburgh Steelers are also 9-1 to win the conference, and the Ravens (+320) and Chiefs (2-1) have better odds to win the Lamar Hunt Trophy at the end of the season.
All things considered, it's a strong statement from oddsmakers that they don't believe the New England Patriots are going to be all that good without Tom Brady at quarterback. Despite the majority of the 2019 team returning and Bill Belichick remaining at the controls, Vegas seems to think this iteration of the Pats will be mediocre at best — and could miss the playoffs altogether.
If nothing else, the blatant disrespect should be fuel added to the fire if you're Belichick this offseason.
No team has been more successful over the past two decades than the Patriots, and that's as much a reflection of the culture, system, and team-first mentality exhibited on and off the field by this team as it is a personal reflection of Tom Brady's greatness.
There's no denying that losing Brady is a massive blow to this squad. He's the greatest of all time after all, and the guys waiting in the wings behind him — Jarrett Stidham, Brian Hoyer, and potentially a rookie taken in this month's draft — will all be either raw and untested (Stidham and the rookie) or veterans who have been tested plenty and who have largely failed those tests (Hoyer).
Still, it's foolish to count out the Patriots simply because Brady is no longer at the helm this season.
Until proven otherwise, the AFC East still flows through Foxborough. And until and unless Belichick and his Patriots look completely like fish out of water without No. 12 out there on the field, it's disrespectful and premature to count them out.
But heck — it wouldn't be an offseason in New England if there weren't people lining up from all over to throw dirt on this team's grave. We've heard it all time and time before — "the dynasty's over," "the Patriots just aren't that good anymore," "Tom Brady's fallen off the cliff," etc. etc. etc.
Let's just wait and see what happens when football finally returns — assuming that it does.