Tom Brady's Patriots departure signals a shift in his priorities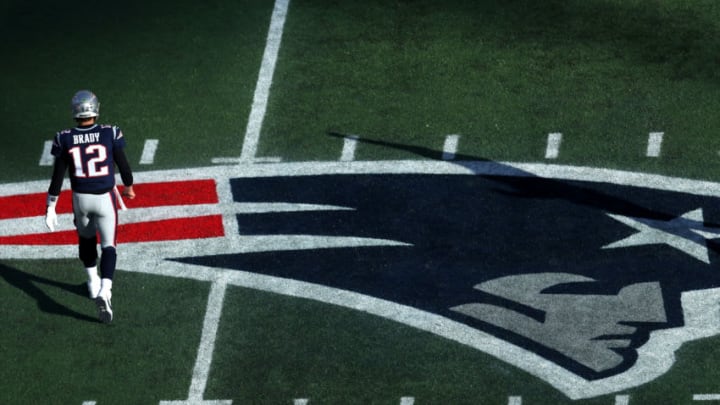 FOXBOROUGH, MASSACHUSETTS - DECEMBER 29: Tom Brady #12 of the New England Patriots walks to the bench over the Patriots logo during the game against the Miami Dolphins at Gillette Stadium on December 29, 2019 in Foxborough, Massachusetts. (Photo by Maddie Meyer/Getty Images) /
Tom Brady's decision to leave the New England Patriots for the Tampa Bay Buccaneers speaks volumes about what he wants right now in his career.
For the entirety of his career, Tom Brady has thrived on proving people wrong.
He had to eke out his opportunities well before he ever dreamed of playing in the NFL, scrapping and scraping for meaningful snaps in college at Michigan behind Brian Griese and Drew Henson.
Famously, Brady was selected with the 199th pick in the 2000 NFL Draft, and he carried that monumental chip on his shoulder even long after the New England Patriots' first three championships paved the way for a dynasty.
From 2004-2014, Brady's motivation was making it back to the top of football's Mount Everest. He had tasted the sweet success and thrill of victory three times in four years as a twenty-something, and now he was at the peak of his powers physically and mentally.
And yet, another Lombardi Trophy managed to elude him for an entire decade.
When he and the Pats finally broke through against the Seahawks in Super Bowl 49, the narrative changed again. With the latest monkey off his back, Brady started competing against the legacies of his rivals, both past and present.
He padded his individual stats and accomplishments while further distancing himself from the likes of Joe Montana, Peyton Manning, Terry Bradshaw, and others on the Mount Rushmore of quarterbacks, especially with his dramatic comeback victory against the Falcons in Super Bowl 51.
With his status as the greatest of all-time assured, Brady's next challenge was proving Father Time and Mother Nature wrong.
He started hawking his TB12 nutrition and wellness books, exercises, and fitness centers, and he steadfastly went about showing the world that a quarterback in his 40s with almost two decades' worth of accumulated mileage could still be a champion.
In conquering the Chiefs twice in 2018 and besting the Rams in Super Bowl 53, he did just that. Even this past season — which was far from Brady's best — he still managed to make incredible throws and intelligent decisions with the football on a routine basis.
Unfortunately for Brady, he may have run out of challenges as a Patriot just a few years too soon.
Bill Belichick and the New England brass reportedly offered Brady a one-year deal worth around $30 million or so to stay with the team in 2020. For Brady, it wasn't about the monetary value of this deal — it was about the longevity of it.
The Buccaneers (and supposedly the Chargers) were willing to acquiesce to his wishes for a multi-year pact, and they gave him a two-year contract worth a total of $50 million. The contract is entirely fully-guaranteed as well, which makes sense — Brady certainly has earned that.
Was TB12's exodus to T.B. simply a matter of that extra year, then? If the Pats had been willing to give him a two-year deal instead of just a one-year contract, would he have stayed?
We may never know.
Judging by how professional, classy, and tight-lipped Brady has been over the past couple weeks, it's unlikely that he ever divulges all the backchannel conversations and drama that probably went on behind the scenes these past couple months — and maybe even these past couple years.
What we think we know, though, based off multiple reports coming out of Foxborough these days (and, again, over the past three years), is that the relationship between Belichick and Brady appears to have been deteriorating for quite some time now.
ESPN's Seth Wickersham wrote an interesting expose a couple years back that really went to great lengths to argue there was a ton of tension within the Patriots organization between Brady, Belichick, and owner Robert Kraft.
At the time, it was easy to look the other way and dismiss some of the assertions made in the article — especially since all three subjects in the piece seemed on the surface to be co-existing just fine.
After all, Wickersham wrote this article in January of 2018, just a month before the Patriots were set to play in Super Bowl 52. Even after the Eagles vanquished the Pats in that game, Brady still decided to come back to New England on a new contract extension.
Wickersham dropped another hot read about this team a week ago, and this time of course, it's harder to argue against some of his more sensational claims. After all, we now know that Brady is a Buccaneer.
It's a whole lot easier to digest and believe that one of the final conversations between coach and quarterback did end in a "blowup," and that Brady was planning this exit all along — perhaps as early as 2017 when all the Jimmy Garoppolo scuttlebutt went down.
Still, if Brady was so down on Belichick for so long, then why did he stay? It's not as if the coach's surly attitude and grouchy, no-nonsense persona is a relatively new development. "The Patriot Way" has been around for decades now, and nobody should be more familiar with it than Brady.
Unless Brady really is the biggest masochist on the planet, why would he put himself through 20 years of hell if he didn't need to? He's long been regarded among the best at his position, and he could have chosen to leave virtually at any point in his career — and he would have had a lot more suitors lining up at his door than just the Bucs and Bolts, too.
Perhaps it's because Brady's priorities finally shifted completely these past couple seasons.
Even if he found Belichick to be an unforgiving and unappreciative taskmaster and control-freak, he must've known all these years that Belichick — and by extension, the Patriots — still represented his best opportunity to win championships.
For Brady, it's never been about the money or the stats. It's always been about winning. When you consider that basic truth, it makes sense that he'd swallow his feelings in the name of winning more rings for his fingers.
Somewhere along the line though, that really must have changed for Brady. He surely still wants to compete at the highest level, and undoubtedly if he wins another Lombardi Trophy without Belichick as his head coach, it could bring him more satisfaction than the other six trophies combined.
But more realistically, Brady seems like he just wants to be happy during his final couple seasons of playing professional football. It may be just as simple as that.
With all due respect to Tampa Bay, there's no reason to think that Brady stands a better chance of winning a seventh ring with the Buccaneers than he does with the Patriots.
But what he does stand to gain with Tampa is a more relaxed team culture in which he'll truly be appreciated and valued for what he is: a living legend that isn't just another cog in the ruthless Patriots/Belichick machine.
Brady will turn 43 years old before his 21st regular season in the NFL officially begins. He has a wife and three kids, and he's very close to his family, both nuclear and extended. He's acknowledged repeatedly in recent years that his focus is beginning to shift away from football and more fully onto his family and other post-NFL pursuits and interests.
His decision to leave the Patriots and join the Buccaneers is emblematic of that sea change.
Maybe Brady wants to leave football the same way he first came into it so many years ago as a child: as someone just having fun, slinging the ball around with his friends in a yard and playing from a state of joy and abandon.
If that's true, then he made the right decision in leaving New England and Belichick behind. And as heart-breaking as it is for Patriots fans to accept and acknowledge that, it's hard not to be happy for Brady.
He, of all people, deserves to be happy after all the happiness he's brought us as fans.