Tom Brady pens eloquent tribute to late Kobe Bryant online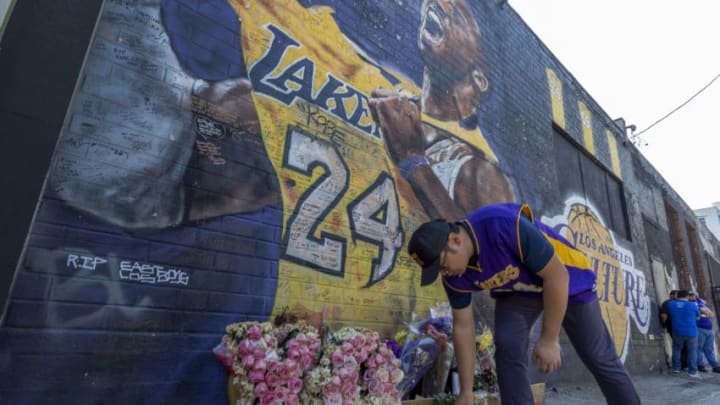 LOS ANGELES, CA - FEBRUARY 24: A man places a candle near a mural for former Los Angeles Lakers basketball star Kobe Bryant during the official memorial ceremony for him and his daughter, Gianna, at nearby Staple Center on February 24, 2020 in Los Angeles, California. Kobe and his 13-year-old daughter were among nine people killed in a helicopter crash on January 26 as they were flying to his Mamba Sports Academy where he was to coach her in a tournament game. (Photo by David McNew/Getty Images) /
New England Patriots quarterback Tom Brady wrote a touching and inspirational tribute to former Los Angeles Laker (and good friend) Kobe Bryant.
Occasionally, there are moments in life — both good ones and bad — that put everything in proper perspective. As much as we all love sports in general and the individual games we follow so fervently as fans, all it takes is a moment of divine bliss — or of terrible tragedy — to remind us all what's really important and what is not.
New England Patriots quarterback Tom Brady seemed to touch on those themes in his most recent Twitter post, a moving and eloquent tribute to the late Los Angeles Lakers superstar Kobe Bryant.
Bryant and his 13-year-old daughter Gianna were two of nine people who died in a helicopter crash in Southern California back on January 26. The untimely passing of these passengers has rocked the world — particularly the sports and Los Angeles communities.
Brady and Bryant shared many things in common despite their outward differences.
Brady plays football and Bryant played basketball, and Brady is an icon in the Boston sports market while Bryant is a legend in the Los Angeles sports market. These two cities have shared a longstanding and memorable rivalry in the world of sports for many decades, from events as recent as the NFL's Super Bowl 53, all the way back to the glory days of Larry Bird versus Magic Johnson in the NBA.
Despite all those differences, Brady and Bryant struck up a friendship over the years.
It wasn't uncommon to see Brady sitting courtside at some of Bryant's games during his final years in the NBA; nor was it unusual when Bill Belichick brought in Bryant to be a motivational speaker for his Patriots team prior to the start of a regular season once upon a time.
As Belichick recently noted himself during comments on Bryant's passing, Kobe enraptured the Patriots football players unlike any other speaker Belichick had ever brought in before.
Why? Simple: his utter conviction and "Mamba Mentality" was something awe-inspiring to behold.
Here's some of what Brady had to say specific to that point:
""His mere presence had an effect on everybody he was around. He had the energy to recognize in others what they could not recognize in themselves. I think that's why I will mist him the most. That's what we will all miss. That's why we hurt. Because we know that he was always fighting against the norm. He was doing more than his share. Now who is going to do the work that is still here to be done? Who is going to fight and break the norms with love and joy and inspiration? Who is going to discard fear, and doubt, and hate? Who is going to carry the load and be the superhero that he was? The answer is simple to me, ALL OF US. Decide to make the change in yourself. If there is anything I have learned and been inspired by through this tragic event, it is this, SEIZE THE DAY. That's what Kobe always did, and that's what he wanted for us too.""
It's now up to everyone whose lives were touched or influenced by Kobe Bryant to carry on his legacy in everything they do. Tom Brady has weighed in on the subject matter, and it sounds like he's ready to help carry the torch of his fallen friend in any way, shape, or form that he can as a fellow sports icon, father, husband, and human being.