David Ortiz offered up his opinions on Tom Brady's free agency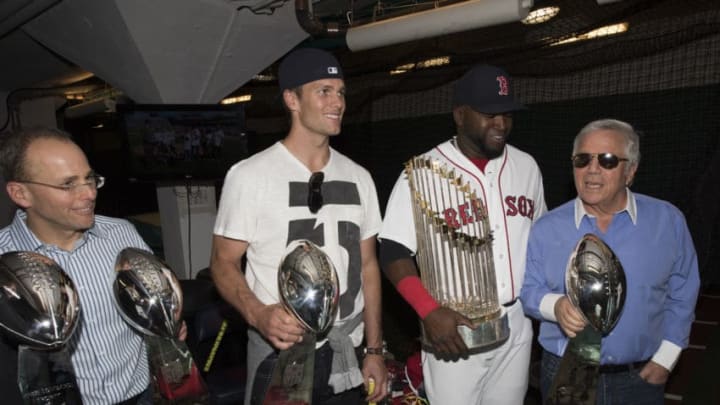 David Ortiz of the Boston Red Sox and Tom Brady of the New England Patriots (Photo by Michael Ivins/Boston Red Sox/Getty Images) /
Boston Red Sox slugger David Ortiz spoke about his feelings regarding good friend Tom Brady and his future with or without the New England Patriots.
Among the many celebrities, media analysts, and fans who have decided to weigh in on Tom Bradys impending free agency with their opinions and predictions, one recent voice in the chorus should stand out just a little bit above the rest — and that's because it belongs to Beantown legend David Ortiz.
The former Red Sox designated hitter and first baseman, who spent the final 14 seasons of a prolific 20-year career in Boston, has befriended Brady over the years. The two were once considered the biggest names in Boston sports — particularly after the dissolution of the Celtics' Big Three (Kevin Garnett, Ray Allen, and Paul Pierce) — and they've spent a good deal of time together both in public and in private.
As such, one would think that maybe Ortiz knows a bit more behind the scenes concerning Brady's thought process at this critical juncture in his career.
If he does though, he's not tipping his hand. While Ortiz conceded he didn't have any inside information regarding Brady's plans for 2020 and beyond, he had no reservations about sharing his own personal thoughts and feelings on the situation with the media.
Here's some of what he said, courtesy of USA Today's Isaiah Houde from Patriots Wire:
""I don't want him to go anywhere… but it's up to whatever is best for him and his family. It's not all about what people think. He has a choice about what is good for him. It's not just for people telling him what he has to do. His legacy has already been built. It's always there. That's not the problem. His problem is not going to be legacy. He could go and play somewhere else for the next 10 years, and when he returns to New England, his legacy is going to be there… I hope he stays with the Patriots, but it's not up to what I say. It's his decision. Sometimes an offer at home might be a couple of million less than what you could get on the road. It's up to you whether you think it's worth it.""
For the first time in Brady's Hall of Fame career, it appears that the New England Patriots will let him test free agency. Brady has never played for another team since he came into the NFL as a sixth-round draft pick of the Pats back in 2000. This will be his 21st season in the league — no matter which team he finds himself starting on.
Rumored confirmed suitors for Brady's services this spring include the Las Vegas Raiders and the Los Angeles Chargers. There's also abundant speculation that he could end up with the Tennessee Titans if they decide not to stick with Ryan Tannehill, or that he could replace former teammate and Patriots backup Jacoby Brissett on the Indianapolis Colts.
The Miami Dolphins, Chicago Bears, Tampa Bay Buccaneers, Detroit Lions, Cincinnati Bengals, Jacksonville Jaguars, Carolina Panthers, Washington Redskins, and Dallas Cowboys have all also been named as potential landing spots for Brady, due to various rumors surrounding the vacancy of their staring QB positions.