New England Patriots: Why not throw Damien Harris into the mix?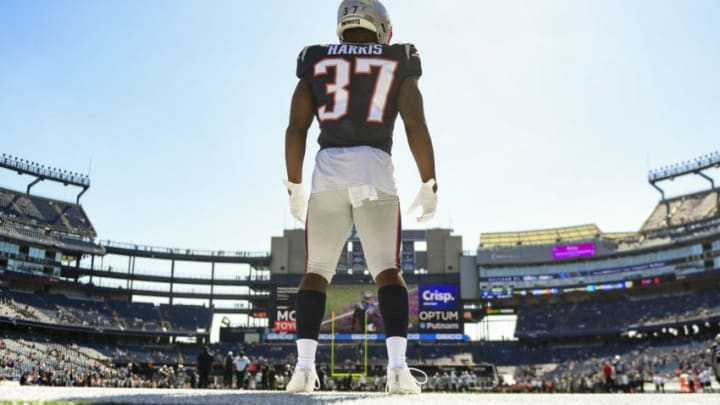 FOXBOROUGH, MA - SEPTEMBER 22: Damien Harris #37 of the New England Patriots looks on before a game against the New York Jets at Gillette Stadium on September 22, 2019 in Foxborough, Massachusetts. (Photo by Billie Weiss/Getty Images) /
It's been two months since my last plea for Damien Harris to be utilized more than he has been this season for the New England Patriots.
Damien Harris was selected in the third round of the 2019 NFL Draft (87th overall). If the New England Patriots didn't have expectations of using Harris or another additional running back this season, then why draft him that high to begin with? The team could have benefited greatly from drafting another wide receiver or tight end in the third round instead.
Harris has only played in two games this season for New England, both games being against the New York Jets.
Second-year running back Sony Michel has run for 653 yards and six touchdowns this season while getting snaps in all 13 games. He is averaging 3.5 yards per carry, which is a full yard per carry less than what he averaged as a rookie in 2018. There have been some obvious issues in the running attack this season, but that's more of an issue with the offensive line than anything.
James White has been "ole' reliable" for the Patriots this season when it comes to the running backs room. Tom Brady knows he can trust White and will target him 11 times in a game just like he would a wide receiver.
It just seems hard to believe there aren't any available opportunities for Harris. Although he had that one fumble, the point of keeping undrafted rookie free agent Gunner Olszewski was to help preserve Julian Edelman and relieve him of some of the "dirty work" regarding special teams and the return game.
Mohamed Sanu hasn't done much in this area (returning kicks) since he got off to a hot start upon his initial arrival in New England. Sanu was brought here to help provide Brady and the offense with some firepower though primarily… not to be used as a punt returner. Unfortunately, Sanu is dropping a lot of passes, and the chemistry between him and Brady seems to be off right now.
My fear with the lack of usage from Damien Harris this season is that it will ultimately set him back in his progression.
It should be noted that the Pats didn't use a returner for one of their punt returns in the game against the Chiefs this past week. So why not use Harris on special teams in the return game at the very least – let alone in the run game where the team has notably struggled all year long?
At this point, the New England Patriots have nothing to lose by giving Harris some extra touches in any conceivable way.
He would be an excellent addition to the already-great special teams for the Patriots, and could feature prominently as a punt/kick returner. It would also give him the experience needed to run the ball in the NFL, paving the way for his ascension as a three-down back if and when Sony Michel doesn't work out.