3 keys to the New England Patriots beating the Philadelphia Eagles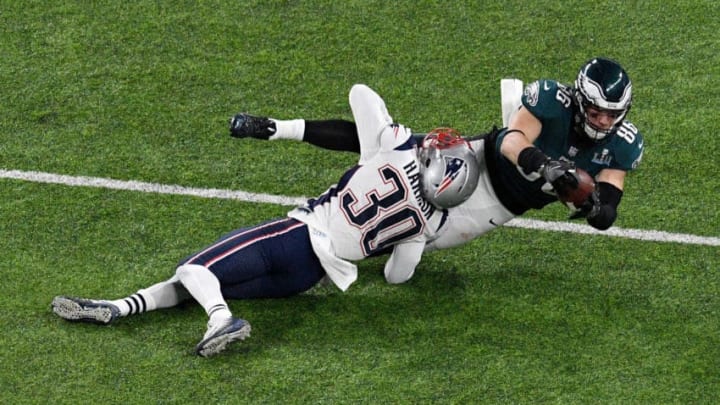 MINNEAPOLIS, MN - FEBRUARY 04: Zach Ertz #86 of the Philadelphia Eagles makes a catch as he is tackled by Duron Harmon #30 of the New England Patriots during the fourth quarter in Super Bowl LII at U.S. Bank Stadium on February 4, 2018 in Minneapolis, Minnesota. (Photo by Hannah Foslien/Getty Images) /
EAST RUTHERFORD, NEW JERSEY – NOVEMBER 25: Julian Edelman #11 of the New England Patriots celebrates his third quarter touchdown reception against the New York Jets at MetLife Stadium on November 25, 2018 in East Rutherford, New Jersey. (Photo by Sarah Stier/Getty Images) /
1. Tire out the Philly defense with an early uptempo attack
Leading New England receiver Julian Edelman told NFL insider Ian Rapoport recently that the Patriots need to "start fast" against the Eagles this Sunday, per NFL.com's Jelani Scott.
""You got to play the game the way you go into the game trying to play it. With a team like Baltimore, you can't get behind because they're so dynamic at keeping the ball away from you. So, starting fast, getting back on that program, being able to come out and start fast and get a rhythm established. A lot of this week was more of self-scout and we're just kind of working on us, on all the things that we have to do better.""
Edelman is of course referring to the early 17-point hole the Patriots found themselves in against the Ravens on Sunday Night Football in Week 9. He knows as well as anyone that if New England allow themselves to fall similarly behind again versus the Eagles in Week 11, a similar fate may await them and the team could end up suffering a second straight loss.
The Patriots owe it to themselves at this point to give their whole no-huddle, uptempo offense another shot this weekend. Tom Brady, Julian Edelman, Mohamed Sanu, and the rest of the New England offense orchestrated it to perfection from about the middle of the second quarter on against Baltimore, leaving many fans and analysts to wonder if they may have discovered something promising even in the double-digit loss.
An obvious advantage of trying out this attack again this week would be tiring out the Philadelphia defense.
The Eagles, like the Ravens, love to blitz – and Brady hasn't been as calm and cool under pressure this year as he normally has been throughout his Hall of Fame career. One of the best ways to offset the blitz and force Philly defensive coordinator Jim Schwartz to dial it back is by getting the ball out quickly to the open receiver, tight end, or running back, and letting that player then get behind the defense and burn them for chunk yardage.
The Ravens defense was visibly exhausted during the second half against the Patriots' uptempo offense. If it wasn't for Edelman's ill-timed fumble that was returned for a touchdown, the game may have ended very different, as New England had all the momentum at the time and Baltimore didn't seem to have an answer on defense for what the Pats were doing.
If he's smart, New England offensive coordinator Josh McDaniels will consider trying something similar this weekend against the Eagles. Putting up some points on the scoreboard quickly not only demoralizes the other team – it also takes a hostile crowd out of the game, and allows Brady and the Patriots offense to operate with less noise and distraction from the enemy stands.