3 keys to the New England Patriots beating the Philadelphia Eagles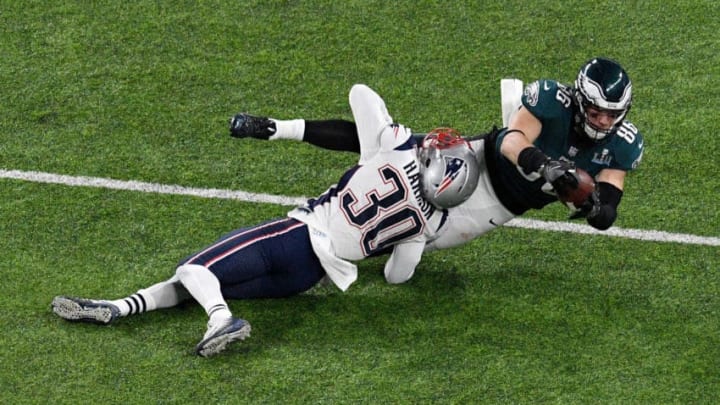 MINNEAPOLIS, MN - FEBRUARY 04: Zach Ertz #86 of the Philadelphia Eagles makes a catch as he is tackled by Duron Harmon #30 of the New England Patriots during the fourth quarter in Super Bowl LII at U.S. Bank Stadium on February 4, 2018 in Minneapolis, Minnesota. (Photo by Hannah Foslien/Getty Images) /
The New England Patriots will hope to rebound this weekend against the Philadelphia Eagles after suffering their first loss of the season.
Most of the storylines leading up to this Sunday's pivotal clash between the New England Patriots and the Philadelphia Eagles unsurprisingly revolve around Super Bowl LII. It's a game that both teams aren't quite over – though for very different reasons.
The Eagles and their fans don't want to forget about that fateful night in Minneapolis because it brought the franchise their first-ever Super Bowl championship, courtesy of Nick Foles, the Philly Special, and a whole lot of points and yards. The Patriots and their fans want nothing more than to forget this game, as it represented one of the more painful defeats in the Tom Brady/Bill Belichick era.
Brady has since admitted that he's still not completely over the sting of losing this shootout of a championship game, 41-33. Even though he and the Pats went on to win Super Bowl LIII the following season – and even though he and his team have won a boatload of other titles to boot – New England is sure to use the pain of falling just short that year as motivation for their Week 11 contest against the Eagles in Philadelphia.
Both franchises are coming off their respective byes, and both should be plenty motivated to show up on Sunday and come out with a win.
The Patriots are still smarting after getting embarrassed in Week 9 by the Baltimore Ravens on primetime television. The Eagles are trying to put together their first three-game winning streak this season and keep pace with the Dallas Cowboys atop the NFC East (the rivals are currently tied for first place).
If New England wants to emerge victorious on the road, they should concentrate on the following three key areas of execution against Philadelphia.