Patriots release punter and Super Bowl 53 hero Ryan Allen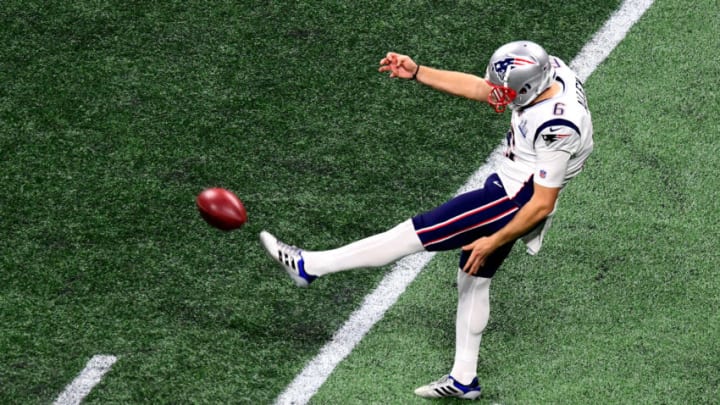 ATLANTA, GEORGIA - FEBRUARY 03: Ryan Allen #6 of the New England Patriots punts the ball against the Los Angeles Rams in the second quarter during Super Bowl LIII at Mercedes-Benz Stadium on February 03, 2019 in Atlanta, Georgia. (Photo by Scott Cunningham/Getty Images) /
Despite having the performance of a lifetime in Super Bowl 53 just last February, the Patriots decided to release punter Ryan Allen on Monday.
Did they make the right decision?
That will be the question on many Patriots fans' minds this season if rookie punter Jake Bailey ever struggles. The fifth-round pick out of Stanford is well-regarded for his strong kicking leg and the excellent hang-time on his punts, and he's so far impressed during training camp and in two preseason contests.
Still, the margin for error when it comes to special teams is always razor-thin. Especially for a team like New England that values and prioritizes field position and in-game strategy better than any other franchise in the NFL, it's a bit curious that head coach Bill Belichick decided to move on from six-year veteran Ryan Allen on Monday, according to ESPN's Mike Reiss.
On the one hand, the move makes a whole lot of sense. As Boston Globe reporter Nora Princiotti pointed out on Twitter: "you don't trade up in the 5th for a punter you don't plan on using." Every roster spot on the final 53-man list is going to be of incredible value, so it's simply impractical to save two of those spots for punters when you really only need one as a team.
On the other hand, the timing of Allen's release – just like the timing of Bailey's drafting – understandably raises more than a few eyebrows. At the time Bailey was drafted, Allen was just a little over two months removed from the game of his life: an epic Super Bowl performance against the L.A. Rams in which he punted five times for a cumulative 215 yards.
Even more impressive than the yardage was what Allen did with the punts – or more specifically, where he placed them. Three of his five punts landed inside the Rams' 20-yard line, with Los Angeles being forced to start from their own 6-yard line, their own 7-yard line, and their own 2-yard line on those drives. It's not hyperbole to suggest that Allen's performance, in light of how low-scoring the game ended up being, was worthy of MVP consideration.
And yet now he finds himself unemployed… though probably not for very long. All of the other 30 NFL franchises that weren't playing in Atlanta last February were certainly watching the game, which bodes well for Allen's chances of having his choice of where he wants to sign next. His phone (or more accurately, his agent's phone) is probably ringing off the hook right now with all kinds of opportunities.
For New England, Allen's departure represents a changing of the guard. Bailey is not only younger and cheaper than Allen; he's also the first right-footed Patriots punter since Todd Sauerbrun in 2006.
Belichick has previously told reporters that he likes left-footed punters because they're generally rarer to find in the NFL, and he believes it gives New England somewhat of an advantage on special teams with the ball traveling and spinning in a different direction than many other teams are used to when it comes to fielding punts.
Evidently that advantage was not enough to convince Belichick to pass on Bailey's talent when the former Cardinal player fell to the Pats in the draft. Hopefully the team made the right choice in selecting Bailey over Allen, and the battle for field position continues to be a strong suit for the Patriots' operation for many, many more years to come.