New England Patriots: Peter King says trading for Le'Veon Bell makes sense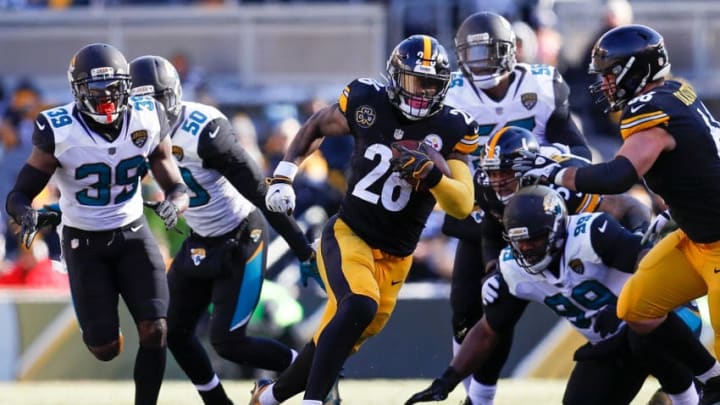 PITTSBURGH, PA - JANUARY 14: Le'Veon Bell #26 of the Pittsburgh Steelers runs with the ball against the Jacksonville Jaguars during the first half of the AFC Divisional Playoff game at Heinz Field on January 14, 2018 in Pittsburgh, Pennsylvania. (Photo by Kevin C. Cox/Getty Images) /
Peter King recently talked about the New England Patriots being a possibility as a trade partner for Le'Veon Bell.
After three games, there is certainly a cause for concern for the New England Patriots. With a 1-2, the Patriots find themselves in a somewhat uncomfortable position.
One of the reasons why the Patriots have struggled has shockingly been because of the offense. Despite having Tom Brady and Rob Gronkowski, it hasn't been enough to carry the Patriots. With an ineffective run game and lack of production from their wide receivers, the Patriots have struggled the last two games.
The Patriots do have some help on the way, as Julian Edelman will be returning from his suspension in Week 5. Also, the team recently traded for Josh Gordon, who they hope will provide some depth at wide receiver and potentially give them an elite player.
Even though help is on the way, Peter King recently talked about the Patriots potentially going after one of the best offensive weapons in the game in Le'Veon Bell. Here's what King said on WEEI with text from NESN.com.
""If I were a team like New England, and Bill Belichick has always had a very contrarian view about draft choices –– what I mean by contrarian view, is he uses them as currency the way Jimmy Johnson used to. If he needs something, he'll figure out a way to do it. That's why I think New England makes sense, although I'm not suggesting in any way it will happen. But I think it makes a lot of sense for the Patriots.""
The thought of the Patriots adding Bell is certainly an appealing one. However, there are a lot of factors that could go into a potential trade. Since the Steelers and Patriots are projected to be playoff teams in the AFC, the Steelers might have zero interest in helping a team that has dominated the conference over the years.
From Bell's standpoint, he might continue to hold out if he is traded with no new contract in place. The Patriots have been very reluctant to pay skill position players, as they traded Brandin Cooks this past offseason cause they knew they wouldn't be paying him when his contract was up.
While there are a lot of reasons that could make trading for Bell difficult, the thought of having Brady, Bell, Gronkowski, Edelman, and Gordon on the same offense is a scary one. If the Patriots really wanted to go for a Super Bowl this season, adding Bell to their offense would instantly make them the best offense in the AFC.