New England Patriots: 5 Trade destinations for Dion Lewis or James White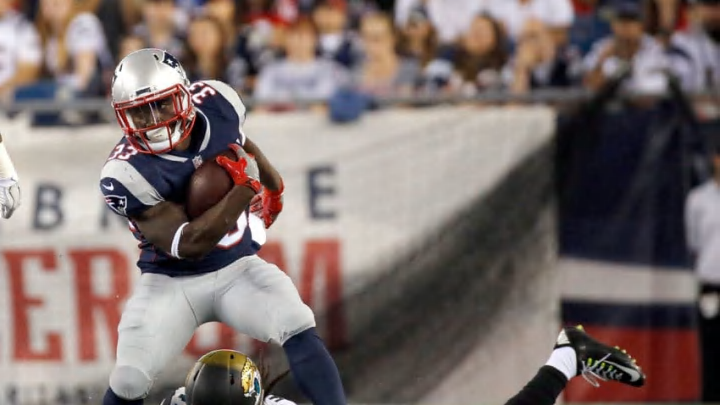 FOXBORO, MA - AUGUST 10: Dion Lewis (Photo by Jim Rogash/Getty Images) /
NEW ORLEANS, LA – DECEMBER 24: Jameis Winston /
Tampa Bay Buccaneers
As the Bucs prepare for the season and brace themselves for whatever they can expect from Doug Martin, popular belief is that Jacquizz Rodgers will be the main RB handling the load. While I don't doubt Rodgers' talent, I do doubt that a RB that size (5'6, sub 200lbs) can handle the full load at RB for a majority of the season. Now imagine splitting that load with a Lewis or White. I'd be much more comfortable as a Bucs fan knowing that everything doesn't fall on Rodgers' shoulders.
My only issue with the Bucs as a possible trade candidate would be there's no obvious target. I would say Robert Ayers, but since he literally just arrived, he's not going to be available. Unless there's a surprise candidate that no one would expect, this would most likely just be a conditional mid-round draft choice for either Lewis or White.
Los Angeles Rams
Before you completely write off this final candidate, hear me out. Yes, the Rams have Todd Gurley and not much depth behind him. Dion Lewis would be the perfect fit here for a young developing QB like Jared Goff. Lewis is a dynamic playmaker who immediately helps a young franchise find some legs in their new city.
As always, what is the value in return? What about a guy like Mark Barron? He's been extremely productive for the Rams as a safety converted to LB, but you need to give something to get something. The Rams will be receiving a top notch playmaker for their offense and they have depth to rely on in their LB corps. Plus, they're all learning a new scheme under Wade Phillips. This might be my most far-fetched proposal, but I don't think it's one worth ignoring.
Next: Player grades from Week 2 of Preseason
There are other RB-weary teams in the NFL including the Colts, the Browns, the Jets and the 49ers. I just don't see any value besides draft picks that the Patriots could get in return. Not to mention, the process is tough. The value of a RB in the NFL is down these days. With the exception of Le'Veon Bell, Ezekial Elliott and David Johnson, there aren't many teams utilizing just one stud RB at the position anymore. So even with the talent provided by Dion Lewis and James White, finding real value in return for their services will be rather difficult for the Patriots.