New England Patriots: Could Jacoby Brissett be a surprise training camp cut?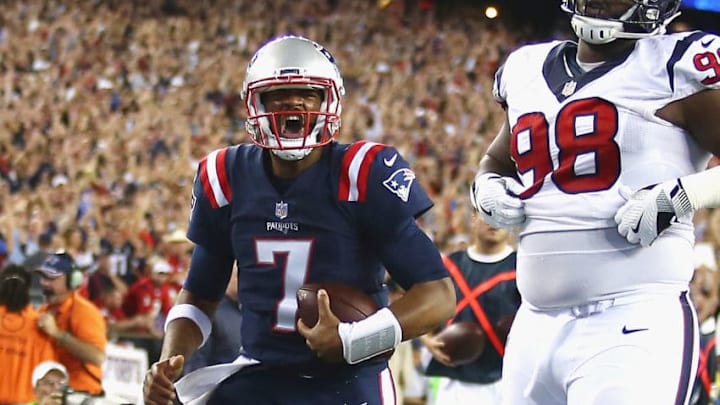 FOXBORO, MA - SEPTEMBER 22: Jacoby Brissett (Photo by Adam Glanzman/Getty Images) /
The 2017 New England Patriots are one of the deepest teams Bill Belichick has ever coached. With that being said, a handful of surprising cuts must be made to trim the roster from 90 to 53 players.
One player who could be on the outside of the 53-man roster is second-year quarterback Jacoby Brissett. The New England Patriots rarely carry three quarterbacks, and already have the premier backup in the NFL with Jimmy Garoppolo.
Brissett hasn't done anything spectacular in camp or offseason programs to prove he's worth a spot. His gun slinging arm has been put on display numerous times, but his overall game is far from the final product, just ask coach Belichick.
Before the second joint practice with Jacksonville on Tuesday, Belichick spoke about the second-year quarterback in an uninspiring way.
""It's a work in progress," Belichick said to Zack Cox of NESN.com. "We'll see. We're a little over a week into training camp — 10, 11 practices — so we've got a long way to go. We'll see.""
In two practices with Jacksonville, Brissett threw just 14 passes in 11-on-11 drills. He completed just seven of those along with two interceptions, nothing eye popping. Other than last season, when the Patriots were handicapped with a suspension and injuries at the quarterback position, they haven't carried three quarterback since 1999.
Brissett was even forced into game action in 2016, impressing in a blowout Thursday Night victory over the Houston Texans. He suffered a scoreless defeat the following week, but played with an injured thumb on his throwing hand.
Releasing Brissett could come costly to the Patriots future plans. Brady is now 40 years old and shows no signs of slowing down, but the concern could be there. Garoppolo's rookie deal expires this offseason and the promising quarterback could be handed over $20 million in free agency.
The Patriots could try to slide Brissett through waivers and onto the practice squad, which could be the best case scenario. But the team could end up losing him through waivers a year after taking him in the third round (91st overall) in the 2016 NFL Draft.
Next: 5 must-draft players in fantasy football
The decision will be a big one for Belichick and the rest of the staff. It will continue to be a situation to watch out for throughout the preseason.