New England Patriots 2016 Season Prediction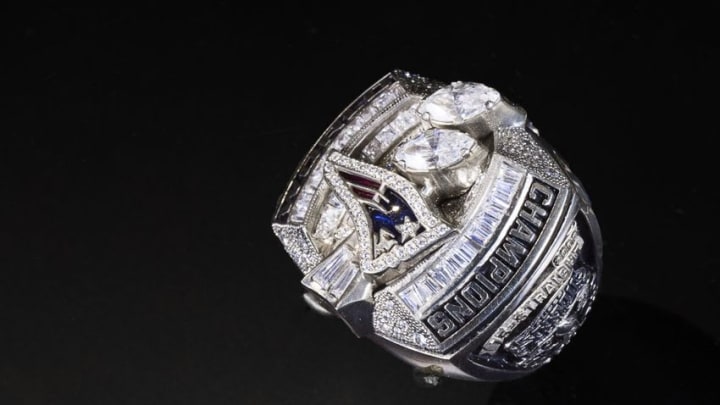 Jan 27, 2016; Canton, OH, USA; General view of Super Bowl XXXVIII championship ring to commemorate the New England Patriots victory over the Carolina Panthers on February 1, 2004 on display at the at the Pro Football Hall of Fame. Mandatory Credit: Scott R. Galvin-USA TODAY NETWORK /
Week 12 – New England Patriots at New York Jets *NBC 8:30pm EST* 
Dec 27, 2015; East Rutherford, NJ, USA; New York Jets fans celebrate an overtime victory over the New England Patriots at MetLife Stadium. New York Jets defeat the New England Patriots 26-20 in OT. Mandatory Credit: Jim O /
After resigning QB Ryan Fitzpatrick on a one year deal, it looks as if playing the New York Jets will continue to be a challenge.
The Jets will be playing their first game on NBC since Thanksgiving in 2012. During the night game, they were annihilated by the Patriots 49-19, also known as the "Butt Fumble Game".
The last time the Patriots traveled to New Jersey, they lost in overtime after electing to defend first. Despite a head coach change in 2015, these two teams still don't like each other. Had things gone a little differently in the final weeks of last season, it's possible the Patriots would have played the Jets in the playoffs. What a game that would've been.
The Jets have vastly improved on offense by adding swiss army knife RB Matt Forte. They also field one of the best receiving duos in the league with Brandon Marshall and Eric Decker. To compliment them is Devin Smith, who was injured last season, and TE Jace Amaro, who has yet to prove himself as a dependable receiver and blocker.
The defense is still formidable, despite concerns about age.
The Jets have always been challenging to run against thanks to having a top-10, if not top-5 front seven. If they did not have Darrelle Revis as their top cornerback, the Jets' secondary would not be good as it is now. Revis may not be as youthful and great as he once was, but the drop off isn't enough to call him "washed" just yet. The Jets also have two hard hitting safeties in Calvin Pryor and Marcus Gilchrist, who are also good in pass coverage.
This will be one of more difficult games of the season, as it has the Patriots on the road in a hostile environment against a team that truly believes they can defeat them.
There are better match ups in this game that favor the Patriots offensively than if they were facing the Broncos on the road (more on that later). Both teams will rely on their defense to be able to make critical stops. It would not being surprising if this game went to overtime – thats how close this game may be. 
Record: 9-2
Next: Week 13 - LA Rams