New England Patriots 2016 Season Prediction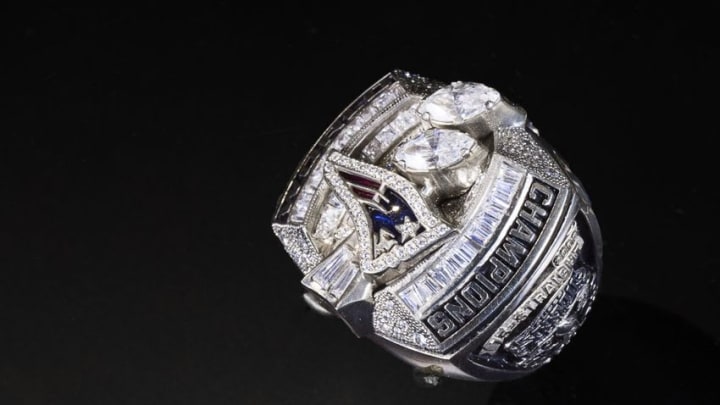 Jan 27, 2016; Canton, OH, USA; General view of Super Bowl XXXVIII championship ring to commemorate the New England Patriots victory over the Carolina Panthers on February 1, 2004 on display at the at the Pro Football Hall of Fame. Mandatory Credit: Scott R. Galvin-USA TODAY NETWORK /
Week 10 – Seattle Seahawks at New England Patriots *NBC 8:30pm EST* 
Feb 1, 2015; Glendale, AZ, USA; Seattle Seahawks cornerback Richard Sherman (left) shakes hands with New England Patriots quarterback Tom Brady (12) after Super Bowl XLIX at University of Phoenix Stadium. Mandatory Credit: Mark J. Rebilas-USA TODAY Sports /
This could easily be one of the best games of the season.
These two teams last met in the Super Bowl of the 2014 season, and the Seattle Seahawks were left with a sour taste after being 1-yard away from winning back-to-back Super Bowls.
These two teams are both complete on both sides of the ball.
Seahawks QB Russell Wilson has emerged into a great passing QB over the past two seasons, and finally has a strong receiving core. Wilson is also one of the best improvisers in the league, if not the best. The Patriots defense may have to rely on a similar gameplan they used in 2012 and in the Super Bowl. Tom Brady may not be as mobile as Wilson, but his pocket presence has only gotten better with age.
Another thing to watch is three of the top tight-ends in the league will be playing in this game (Rob Gronkowski, Jimmy Graham, Bennett). This could be a game that is determined by tight-end play, however, the edge has to go to the Patriots as they have two tight-ends that will attract a lot of attention and open up things on the field.
Both these teams have good defenses, but the Seahawks have been consistently dominant since 2012. They may have lost players and two defensive coordinators, but the core is still there and it appears that whichever player is plugged in seems to be able to make a plays – sound familiar?  Teams aren't scared of Seattle as they once were in 2013, but this is still a scary matchup.
The outcome of this game will be determined by which offense can score more points. Yes, that is the objective of the sport, however, this game could easily turnout to be a defensive battle with both teams struggling to put points on the board.
There are two reasons as to why the Patriots are given the edge here:
Brady has been able to move the ball against this defense. In 2012, Brady threw for 395 yards 2 TDs and 2 INTs. If it weren't for the Patriots electing to not kick a field goal at the end of the 2nd quarter, they could've and likely would have won that game. In the Super Bowl, the Patriots employed a similar gameplan they used in 2012, and were able to move the ball down field as Brady threw for 328 yards 4 TDs and 2 INTs.
The talent of the Patriots offense is far more superior to that of the Seahawks.  Hypothetically speaking, it will be very difficult for the Seahawks' defense to be able to cover four game-changing players (Gronkowksi, Edelman, Bennett, and Lewis) that are able to stretch the field and create mismatches.
Regardless of which team wins this game, this will definitely be an entertaining one that could end in crazy fashion – again.
Record: 7-2
Next: Week 11 - Hometown Boy Makes First Appearance