New England Patriots 2016 Season Prediction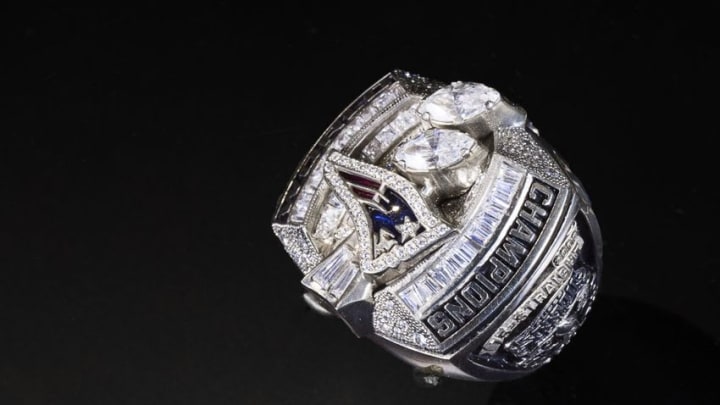 Jan 27, 2016; Canton, OH, USA; General view of Super Bowl XXXVIII championship ring to commemorate the New England Patriots victory over the Carolina Panthers on February 1, 2004 on display at the at the Pro Football Hall of Fame. Mandatory Credit: Scott R. Galvin-USA TODAY NETWORK /
Jan 27, 2016; Canton, OH, USA; General view of Super Bowl XXXVIII championship ring to commemorate the New England Patriots victory over the Carolina Panthers on February 1, 2004 on display at the at the Pro Football Hall of Fame. Mandatory Credit: Scott R. Galvin-USA TODAY NETWORK /
It was over three months ago that the NFL released this year's schedule and everyone is continuously counting down the days until the first snap of the season.
The New England Patriots' 2016 season looks to be a challenging one, but it should come with a lot of excitement.
Looking back at their 2014 schedule, it had a similar feeling. It had the Patriots in tough games like at Kansas City Chiefs, Cincinnati Bengals, Denver Broncos, at Indianapolis Colts, Detroit Lions, at Green Bay Packers, and at San Diego Chargers.
Football fans are all aware of the annihilation the Chiefs gave to the Patriots at Arrowhead Stadium. But they are also aware of what transpired for the rest of the season: they went 10-2, including an 8-game winning streak against some of the highest scoring offenses and toughest defenses in the league.
This upcoming season, the Patriots' toughest opponents look to be the Arizona Cardinals, Cincinnati Bengals, Pittsburgh Steelers, Seattle Seahawks, New York Jets, and Denver Broncos. 5 of these 6 teams were in the playoffs last season, and look to be contenders again, so it's certain these won't be easy wins. But again, this regular season looks like it will be an exciting one to watch.
Let's dive into it.
*Keep in mind, this a prediction and should the Patriots sustain any major injuries, the outcomes of these games can be completely different* 
Next: Week 1 - Season Opener