Patriots discussion: Musket Fire Roundtable 5/19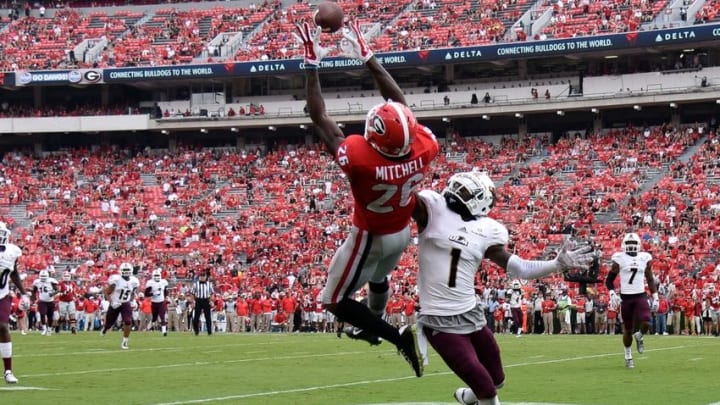 Sep 5, 2015; Athens, GA, USA; Georgia Bulldogs wide receiver Malcolm Mitchell (26) catches a touchdown pass defended by Louisiana Monroe Warhawks cornerback Lenzy Pipkins (1) during the second half at Sanford Stadium. Georgia defeated Louisiana Monroe 51-14 in a game shortened by thunder storms. Mandatory Credit: Dale Zanine-USA TODAY Sports /
Nov 8, 2014; Lexington, KY, USA; Georgia Bulldogs split end Malcolm Mitchell (26) runs the ball for a touchdown against the Kentucky Wildcats in the second half at Commonwealth Stadium. Georgia defeated Kentucky 63-31. Mandatory Credit: Mark Zerof-USA TODAY Sports /
My favorite Patriots pick from this year's NFL draft was the Georgia wide receiver Malcolm Mitchell. However, with a reliable group of Julian Edelman, Rob Gronkowski, Chris Hogan, Danny Amendola, Martellus Bennett, and Dion Lewis likely ahead of him in targets, what is his realistic ceiling in the Patriots' offense?
Connor Fulton – Depending on how much his play resembles the Troy Brown comparisons that are being made, Mitchell could assume the outside possession receiver role. If you remember, Brandon LaFell excelled on the outside back in 2014 (NOT last season) with Rob Gronkowski and Julian Edelman occupying the middle. Not much has changed in the aerial attack since then; the door is open for an offseason addition to make his presence felt as a perimeter threat. The realistic ceiling for Mitchell involves beating out Chris Hogan and Nate Washington for that No. 3 role behind Edelman and Danny Amendola; 50 receptions would be best-case scenario for Mitchell.
Jaydeen Allen – In New England, as a rookie, especially as a wide receiver, it may be difficult to fully grasp the Patriots' complex and demanding scheme. It's expected that Mitchell will slowly see time on the field and may even increase as the season progresses. However, due to Julian Edelman (foot) and Danny Amendola (knee, ankle) recovering from offseason surgeries, the rookie may see snaps sooner than most believe.
Andre Menice – Honestly, I don't see much coming out of Mitchell this year. I think his biggest impact will be on special teams as a return man if Cyrus Jones becomes too important to the defense to risk injury returning punts and kicks. But if he can pick up the playbook fast enough and, more importantly, develop a relationship with Brady, he will find the playing time.
David Smith – Realistically, I think he will only have about 30 catches all year. Let's face it, Dobson needs to be cut, I can't stand him honestly. Edelman and Amendola are recovering from their respective surgeries and Gronk is probably going to miss a game or 2 at some point, that's the only way he'll even see the field. As it stands right now, if everyone is healthy throughout the year, he's the 6th receiving option at best. He's behind, in order: Gronk, Edelman, Amendola, Hogan, Lewis, Bennett, and Martin. Plus, the Patriots have a nasty habit of missing out on receivers. I don't think Mitchell will ever be anything worth talking about. He won't be this amazing receiver. At best, absolute best, he'll be Deion Branch; however, I don't think he'll get to that point before he gets cut. Belichick just can't develop receivers and I think Mitchell will fall into that mold. He'll have an uneventful rookie year and probably an uneventful Patriots career.
Next: Connor ponders best offseason addition