Patriots discussion: Musket Fire Roundtable 5/19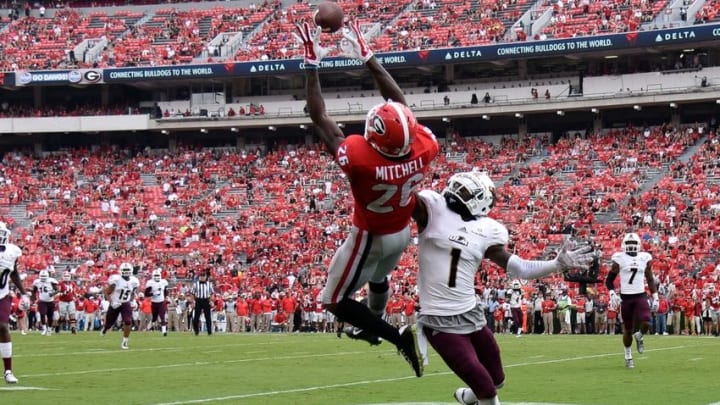 Sep 5, 2015; Athens, GA, USA; Georgia Bulldogs wide receiver Malcolm Mitchell (26) catches a touchdown pass defended by Louisiana Monroe Warhawks cornerback Lenzy Pipkins (1) during the second half at Sanford Stadium. Georgia defeated Louisiana Monroe 51-14 in a game shortened by thunder storms. Mandatory Credit: Dale Zanine-USA TODAY Sports /
Sep 5, 2015; Athens, GA, USA; Georgia Bulldogs wide receiver Malcolm Mitchell (26) catches a touchdown pass defended by Louisiana Monroe Warhawks cornerback Lenzy Pipkins (1) during the second half at Sanford Stadium. Georgia defeated Louisiana Monroe 51-14 in a game shortened by thunder storms. Mandatory Credit: Dale Zanine-USA TODAY Sports /
This week's Musket Fire's Thursday Roundtable topics include: the New England Patriots' backfield situation, Malcolm Mitchell, best offseason addition and surprise cut candidates. Andre Menice gets the Patriots discussion started by addressing the backfield:
Along with the majority of fans, I believed running back was atop the list of needs for New England. And, like the majority of fans, I STILL believe running back is a need. After doing some research, a few teams that have an abundance of running backs are KC, DAL, and BAL. Which running back on these teams, if any, are the most likely to find their way on NE's roster via trade or free agency after roster cuts?
Jaydeen Allen – While the Patriots did not sign any big name running backs during free agency and also did not choose a running back early in the draft, they are not in immediate need at the position. In fact, heading into training camp, they are somewhat deep at the position. With the return of Dion Lewis and the re-signing of LeGarrette Blount (thought the Patriots could have AND should have moved on), it looks as if the Patriots will again use these two as a 1-2 punch. James White proved to be solid when Lewis was lost for the season, stepping in as a Shane Vereen-type RB. Brandon Bolden also had his moments after the catch, but will continue to see the majority of his snaps on special teams. Now add Donald Brown, Tyler Gaffney, and WR/RB threat D. J. Foster and there's quite the crowded backfield. It's possible they could still bring in a RB before the beginning of training camp, but it still seems unlikely. Next year however, seems it be the year the Patriots do in fact draft a running back a little early.
David Smith – I'm not sure that any of these backs will find their way to the Patriots. You figure that the Patriots already have a lot of running backs on the team as it is. I think Blount, Lewis, Bolden, White and DJ Foster (hopefully) all make the squad in some capacity. Don't forget about Donald Brown either. Apparently he's a perfect fit for the way the Patriots run their offense. Brown probably will end up causing DJ Foster to go to the practice squad and will probably be the 4th and final running back, primarily because of his blitz pick-up and knack for running out of shotgun formations. But if I had to pick which back would end up on the Patriots out of those 3 teams, probably McFadden from Dallas, only because there's rumor he could get cut as it is, even though I don't see it honestly.
Connor Fulton – Weighing in at 223 pounds, Terrance West could provide beef in the event that LeGarrette Blount suffers a preseason injury, or a September one for that matter. Joey Iosefa, although a promising downhill runner himself, is the lone power depth behind Blount. However, the Patriots recently displayed commitment to Iosefa by re-signing after the release of Tony Steward, so don't lose sleep over the thought of this happening… in a pinch, Brandon Bolden can pull spot duty as a between-the-tackles ball carrier.
Kirk von Kreisler – While I think running back is a concern, after the Patriots denied to select any backs in the draft, I do not expect any major moves to be made at the position before the season. If he's cut, I believe the Patriots will take a look at Kansas City Chiefs running back and kick returner, Knile Davis. The Chiefs have been shopping Davis around and he may be out after running backs Charcandrick West and Spencer Ware signed extensions to remain the change-of-pace backs behind Jamaal Charles. Davis hasn't impressed in Kansas City but we could see the Patriots bring him in as a camp body if he were released by the Chiefs. It looks like the ship has sailed on any game-changing running backs coming to New England before this season.
Next: Kirk opens up the Malcolm Mitchell conversation