Chris Hogan: Forecasting 2016 production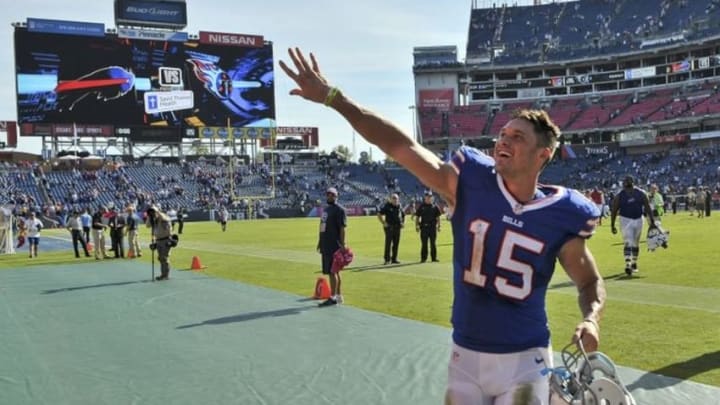 Oct 11, 2015; Nashville, TN, USA; Buffalo Bills wide receiver Chris Hogan (15) tosses his gloves to the fans as he leaves the field after defeating the Tennessee Titans at Nissan Stadium. Buffalo won 14-13. Mandatory Credit: Jim Brown-USA TODAY Sports /
Welcome to our first installment in a 12-part series in which we will forecast the 2016 production of each of the New England Patriots' offseason veteran additions. First up is Chris Hogan.
MUST READ: 2016 NFL Draft: 6 WRs Patriots should mull over
The skinny: Hogan became a Patriot after the Buffalo Bills declined to match the Patriots' hefty offer for the restricted free agent. In four seasons with the Bills, Hogan accumulated 959 yards and six touchdowns on 87 receptions.
Pessimistic forecast: Hogan gets lost in a crowded pack of Patriots' wideouts in training camp, with the likes of Nate Washington, Aaron Dobson and Chris Harper out-performing him. The lacrosse background doesn't serve him well, and he sputters just like the most recent former Bills' pass catcher to join the Patriots, Scott Chandler.
MUST READ: Top 6 breakout candidates on defense
A 2016 NFL Draft pick, a rebounding Dobson or a sophomore breakout season from Harper could stand in the way of Hogan succeeding in New England.
Pessimistic stats projection: 19 receptions, 212 yards, 2 touchdowns
Optimistic forecast: Hogan surpasses Washington, Dobson, Harper, Keshawn Martin and even Danny Amendola on the depth chart takes the role of Brandon LaFell as a perimeter possession receiver and produces like LaFell did in 2014 (74 catches, 953 yards, seven touchdowns).
MUST READ: The underlying reason why the Pats are stocking up in 2016
Mark these words: whoever emerges as the Patriots' No. 2 wideout this season will have a big year, as defenses will be preoccupied with Rob Gronkowski, Martellus Bennett and Julian Edelman.
Optimistic stats projection: 79 receptions, 1,004 yards, 8 touchdowns
MUST READ: Reordering WR depth chart after Nate Washington signing
Realistic forecast: While he doesn't get pegged above Amendola on the depth chart, Hogan finds a niche in the No. 3 receiver role and reaps the benefits of being in a passing attack with so many other weapons. As the season goes on and injuries on offense mount up, Hogan's responsibilities increase and he is up to the challenge.
Realistic stats projecton: 52 receptions, 745 yards, 5 touchdowns
Join us tomorrow morning as we forecast the production of Washington.
Next: 6 WRs Pats should consider in 2016 NFL Draft
Stay tuned here on Musket Fire for coverage on every twist and turn in the Patriots' offseason.